Outdoor Life Coach Emma Mudge explains just how vital nature is in teaching us to love and enjoy our bodies, no matter our shape and size. Emma is yet another addition to the #makingwaves series – intrepid and inspirational women with an uplifting story to tell.
"Lots of us are embarrassed about our bodies, but it's the only body we've got so we have to accept it. I believe that getting out in nature helps us acknowledge all shapes and sizes. The great outdoors is a remarkable facilitator in helping women feel physically empowered."
Emma Mudge is right. Her decision to use her masters degree to offer outdoor-based coaching to women makes perfect sense. We do lose our inhibitions when we're roaming around in the wild. We're less self-conscious, more inclined to push past our comfort zone. Why? Perhaps it's because nature becomes the focus. The moment becomes less about us. We merge into the elements, into the breeze and trees.
I recently interviewed a couple of female sea swimmers (their tale is coming soon!) who described how their insecurities about their bodies soon dissolved. One admitted wearing a t-shirt to cover up during their first group swim whereas now she has no qualms about sporting a bikini. She felt safe in the sense that nobody was studying her body. They were absorbed by the cold, the current and the camaraderie. Nature is a force which frees us from our sense of self. It is truly liberating.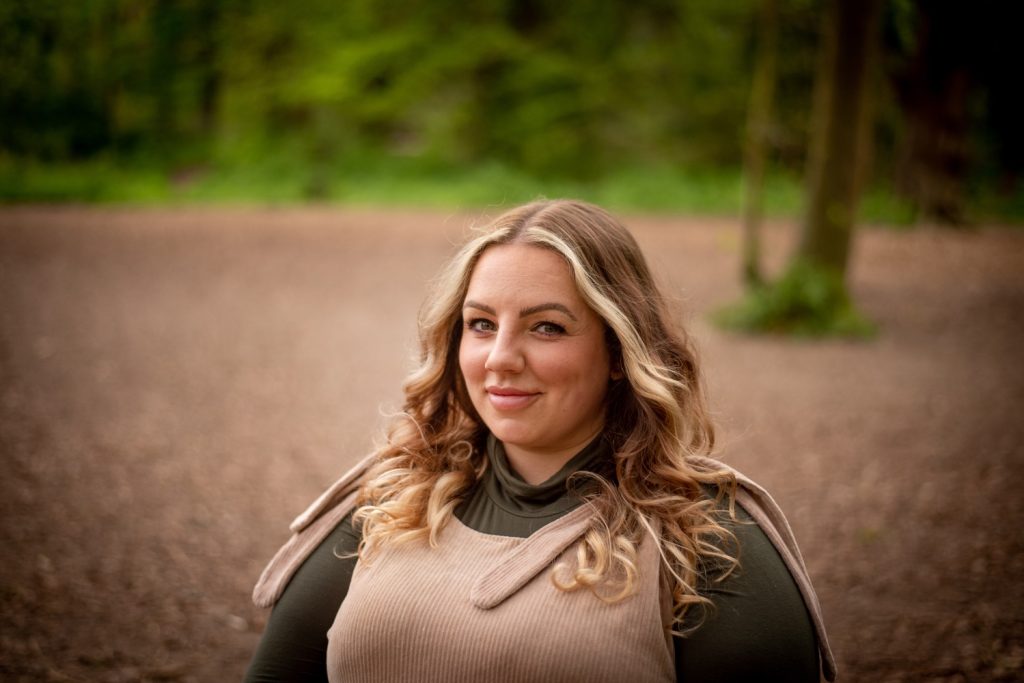 Before meeting Emma, she had briefed me about her figure. "I'm a big person," she'd explained, "bigger than the majority of images you've shared. I am very comfortable with my body because it's what I'm all about, but I'm aware it might be a factor which influences how we do things?"
I pondered this, although not too deeply. I am, after all, entirely accustomed to photographing women. I've been doing it for fourteen years now. Most of them have been mothers whose body shape has altered and fluctuated, in the way that nature itself does. Photographing women just as they are has become a true passion of mine. I thrive on placing them in ways which shows them just how beautiful they are. When I set eyes on Emma with her tumbling blond locks and her curves and confidence, I couldn't wait to create.
The location for the shoot was Kearsney Abbey, near Dover. It's a vast and fluid mixture of woodland, wild lawn and water. I'm always drawn to the latter and I'd foreseen adventurous portraits of Emma amongst streams and ponds like a mythological deity.
"I love water," Emma had proclaimed. "Waterfalls, especially. I tend to go to Wales to see those. Unfortunately, we don't have many in Kent…"
In response to these words, I purposefully found a cascade of water, gushing over the precipice of the old abbey ruins. A mini waterfall. Here, Emma shone like a goddess.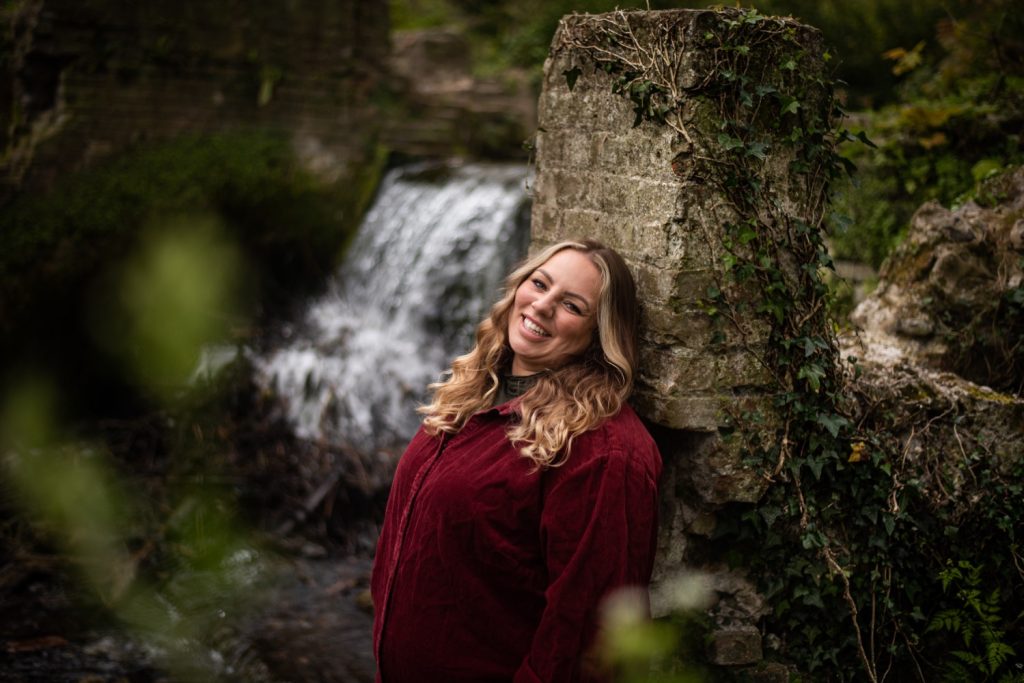 "We've got one life," Emma shrugged, "and we'll regret it if we don't enjoy what we have. My Nan regularly says to me how she wishes she'd appreciated her body when she was younger but hindsight and regret is no use. We must live in the present. I want to support women who feel inhibited by their size and shape. I want to bring them outdoors and show them that the connection, embodiment and acceptance of self you can experience within nature is like no other. It's incredibly powerful and effective."
The other empowering force behind Emma's unwavering acceptance and enjoyment of her body is Burlesque. She teaches regular classes, encouraging women of all ages and circumstances to become more confident in their body. I admire her audacious spirit, her refusal to adhere to constraints which society imposes on our physical appearance.
Towards the end of our session, I point at the river and pose the inevitable question.
"Do you fancy getting in?"
"Ah, I'll do anything for a good photo!" Emma responds gleefully and before I know it, she's wading through the chilled current, relishing every moment. 
Emma is not just a strong role model for plus sized women. She is an inspiration to anyone who looks and feels different, an encouraging example of how we should all be kinder to ourselves, stop holding back and ultimately, not give a damn about what anyone says. No matter what our hang-ups are, it's an important message and a lesson to us all.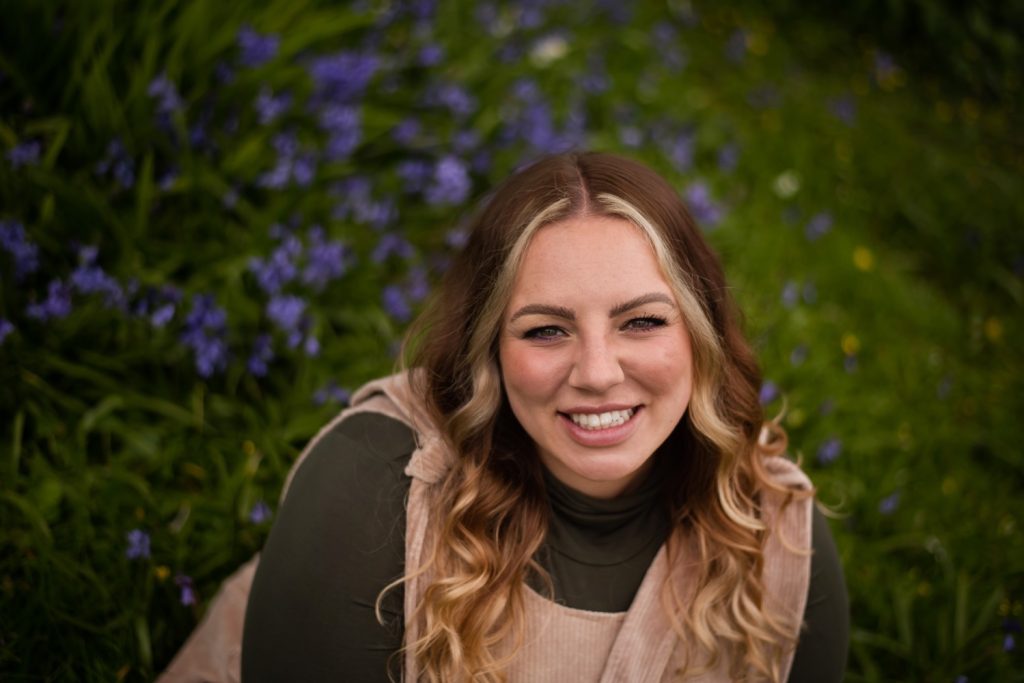 Other tales from the 'Making Waves' series which you may also like:
Supporting mothers and empowering children with artist Katie Manning: "That was the moment that I realised I had to draw cleft-affected people…"
Creating lifelines for vulnerable mothers with maternity & baby guru Charlotte Burkette: "I will never forget when the doctor told me that they thought there was something wrong with my baby…"
Regaining your identity after having a baby with yoga teacher and paddleboarder India Pearson – "It's not healthy to be absorbed by one thing."
Talking adventure with photographer, Girl In A Yellow Jacket: "I came to England because I was looking for adventure. I had £50 in my pocket. No job. I didn't know anybody at all. It was a crazy thing to do on my own."
"Celebrating Life and Acknowledging Loss with foodie entrepreneur Imogen Tinkler: "You can't out-run grief. It follows you like a shadow." Dedicated to all the parents, babies, siblings and families touched by a premature baby
How sea glass changed Archie Archer's life: "My whole life I've had these bonkers adventures. Now I feel as though I'm living. I could never leave the sea."
Empowering women with fitness and mindset coach Cat Pellow: "I'll never forget the moment someone shouted, "Fat Cat!" at me across the road."
Never Giving Up, with World Champ Paralympian Sailor Hannah Stodel – "Sailing was a way for me to be normal. Nobody looked at me like I was disabled."
Pushing Boundaries with Channel Swimmer Abhejali Bernadova – "It's definitely all about the mind. Our mind limits us too often…"