This post is part of my #makingwaves series – intrepid and inspirational women who have an affiliation with the sea. This story is dedicated to all the parents, babies, siblings and families touched by a premature baby.
"You can't out-run grief. It follows you like a shadow," she said, as we strolled along the sun-bleached coastal path. "I have definitely tried and failed."
I'd made the trip out to Whitstable, a quirky seaside town in Kent, to meet Imogen Tinkler, the entrepreneur behind the fantastically named Bangers & Balls, a passionate "revolution of food" featuring recipes and foraging tips. However, this exciting brand wasn't what had brought us together. It was Imogen's love for plunging into the English Channel which drew me to her. I'd just started dabbling in sea swimming myself and was intrigued and inspired by people who did the same. Moreover, as I delved deeper into Imogen's story, I learned that submerging herself in wild water had helped her through the traumatic loss of baby Beatrix two years ago when she was only eight weeks old. Bea was the second daughter Imogen had with husband, Duncan. A sister to Xanthe. What made my union with Imogen on Tankerton Beach so incredibly moving was that Imogen brought her third daughter with her. At only two weeks old, Athene was wrapped up in a blanket, snug in her buggy, a woolly hat on her tiny head. We had come to the beach to celebrate but, at the same time, we needed to take a moment to remember the little baby who couldn't be here. Imogen's middle daughter.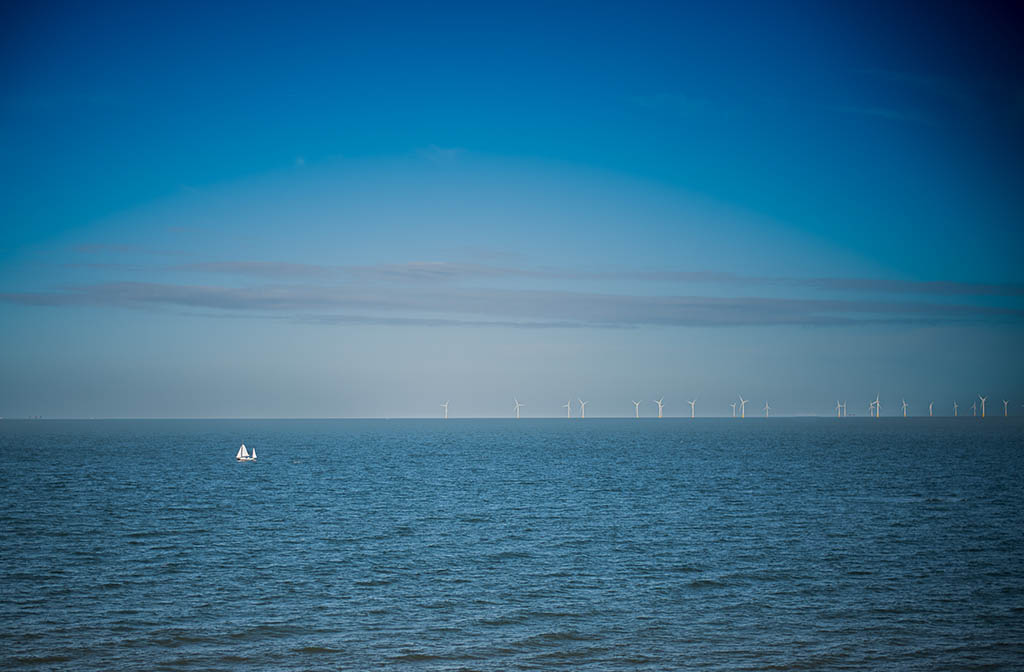 "Beatrix was born at thirty-three weeks," Imogen explained, as we trundled down a path to the shingle beach. She was wearing a mustard yellow dress and a plum-purple fur coat, a real statement of spirit. "It was the start of the pandemic and we felt so lucky to be able to take her home, away from the beeping machines. She was tiny but mighty." A swell of maternal love floods Imogen's eyes as she speaks and then diminishes slightly, like a fading flame. "Tragically, she stopped breathing one day at home. I was so fortunate to be with her when it happened and give her CPR. She was helicoptered from Whitstable to Kings College Hospital in London."
We paused on the concrete path, standing in the shadow of a pastel purple beach hut and allowed a woman walking a Labrador to pass by. The sea was a denim blue shade and the texture of crushed velvet. Aside from a white yacht with triangle sails and a faint row of offshore wind turbines on the horizon, the scene was undisturbed.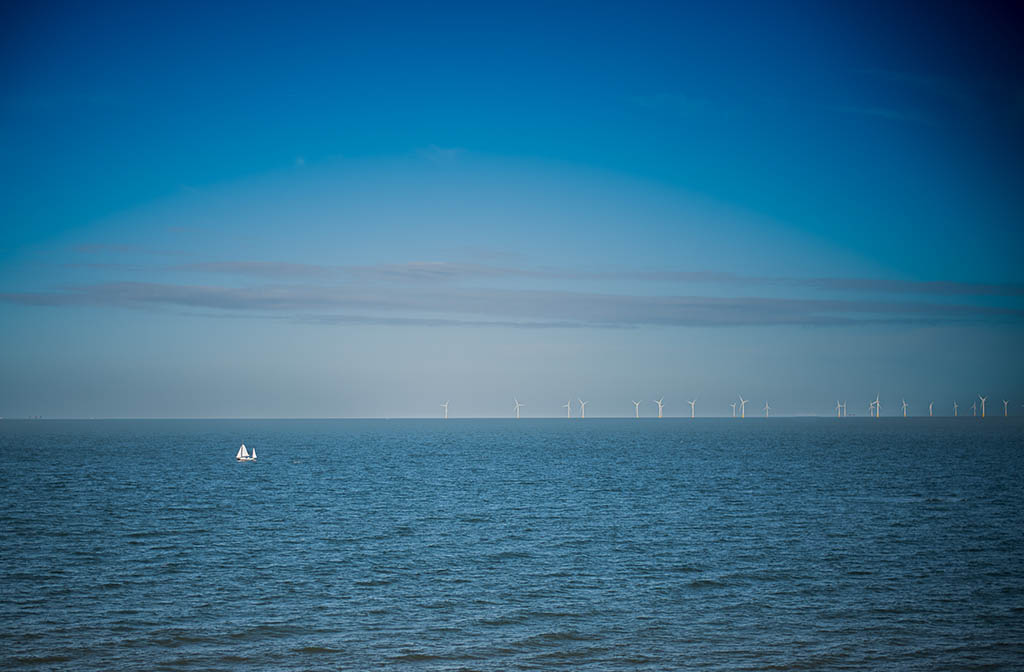 "I don't understand how you carry on after something like that," I utter, stunned by this woman's heartbreaking story and her ability to put it into words so articulately.
"Believe me, some days I wanted to stay in bed as a hostage," she said, "but I had a two-year old and a husband who needed me. I believe it's the everyday that carries us through the hardest of times so I took time to listen to the birds, walk in nature and dive in the sea. When you get in the sea, you feel different. Powerful. I can't explain it but suddenly everything feels manageable."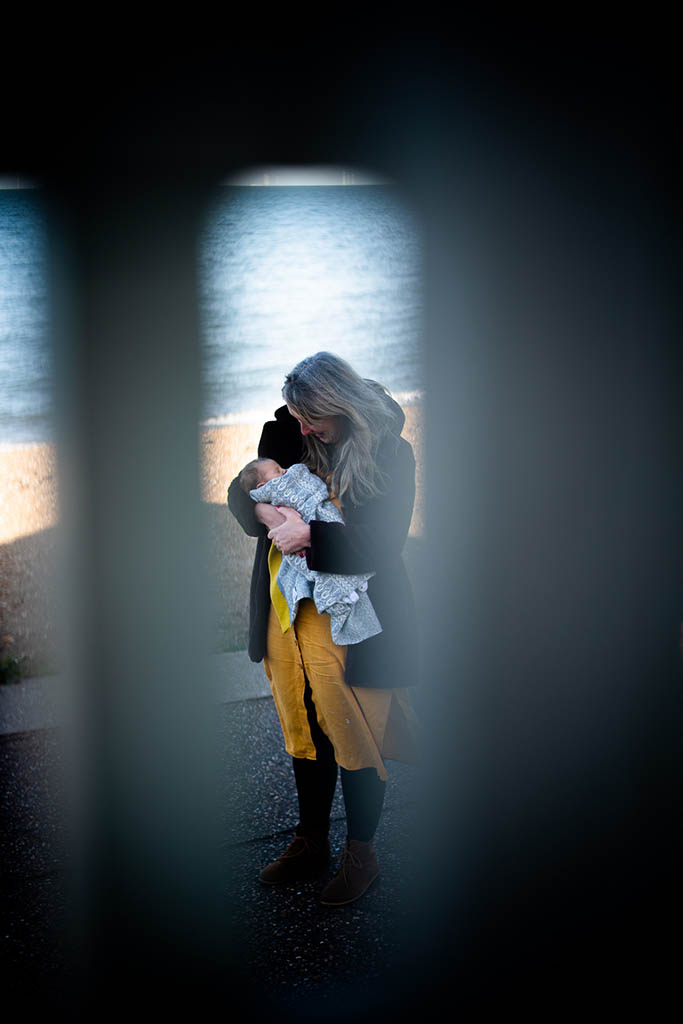 "I can relate to that," I nod, and I tell her how being in the sea silences the niggling voices in my head I've been hearing since relocating to the coast, how it has consoled me in the aftermath of the post-natal depression I'd experienced, aided me in my struggle to regain my authentic identity as a woman. Imogen listened. Agreed. Offered advice. Supported.
It was a privilege to photograph Imogen and Athene, wrapped tightly in a blanket, on the shore of the Kent coast. A content baby lulled to sleep by the rolling waves is a precious sight to behold and being in the company of a gutsy and grounded woman who is so generous with her wisdom was both inspiring and humbling. There's an ethereal and earthy aura about Imogen, a deeply ingrained faith that the outdoor world can heal. Some people just have that spirituality within them. It's a gift which they use to navigate their way through life and everything it throws at them.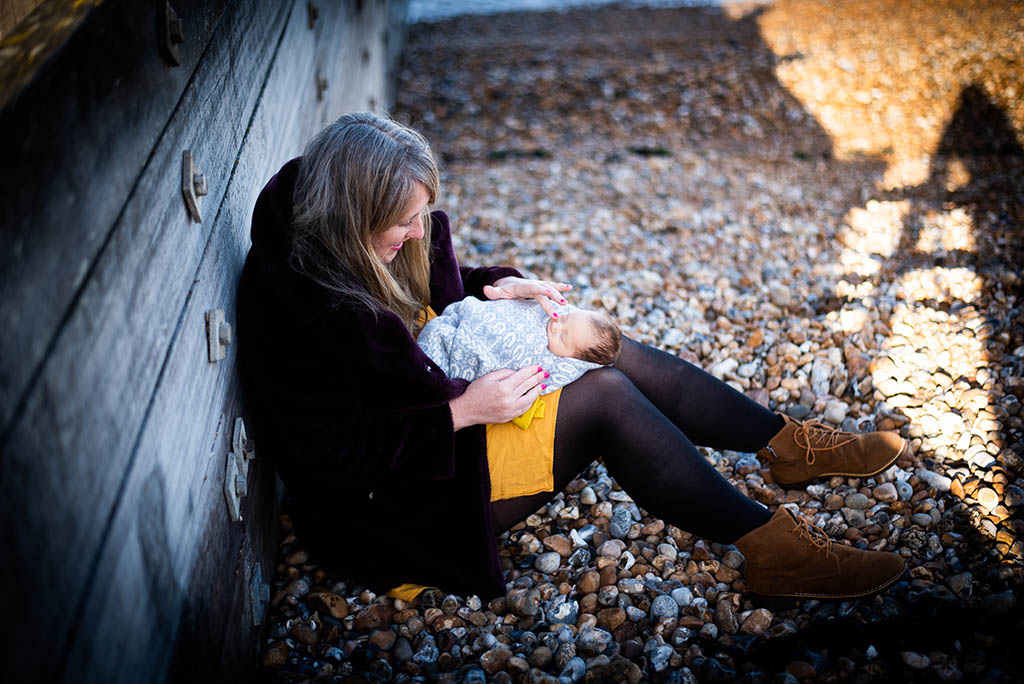 "Sometimes, like a crashing wave, grief can knock you off your feet," Imogen admitted as I took a turn of holding baby Athene tight in my arms, "but I feel lucky that I spent time with Bea in hospital when she was born. I loved having those magical night-time feeds and growing my bond with my baby girl on the quiet of the night ward."
"I guess you always have to find something to be grateful for," I mused, marvelling at Athene's tiny bump of a nose and perfect mouth, "and a reason to be hopeful."
"Of course," she agreed. "In life it is hard to accept we can't control everything and sometimes there is no reason to why things get taken away. Beatrix may not be with us but she taught us so much: to look for the wonder and magic in the everyday. After all, life is pretty amazing and magical."
Imogen and I parted with a mutual appreciation of having spent a worthwhile hour together. I was appreciative to her for opening up, and she was grateful for me bringing her story to life, for capturing a poignant moment in her family's journey. When I see these images now, I realise just what it means when people say –
"A picture is worth a thousand words."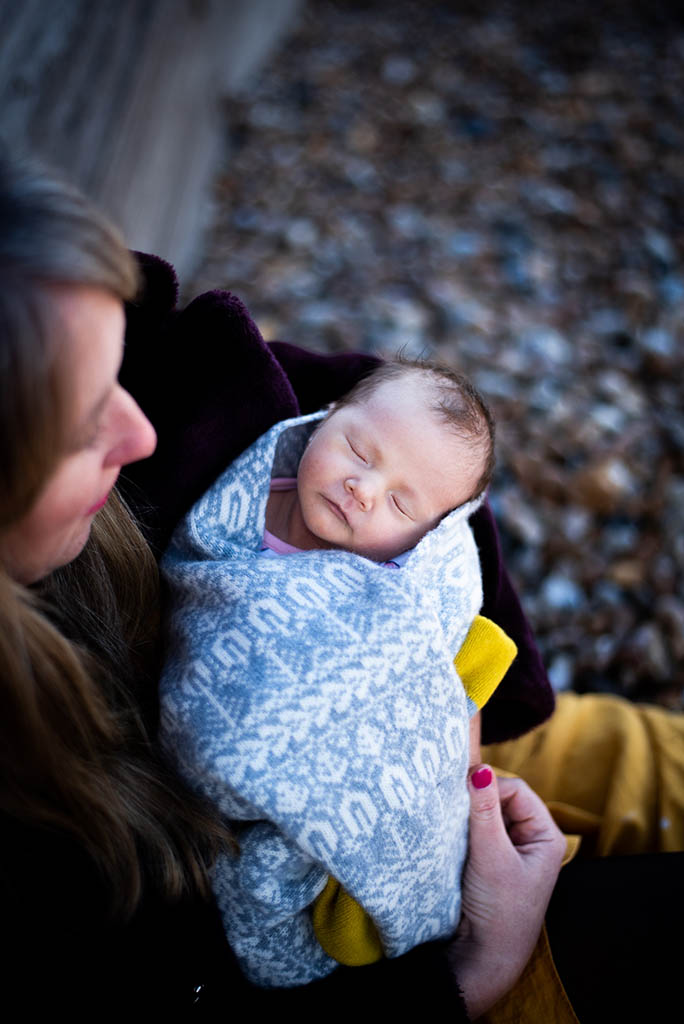 Read other tales from intrepid and inspirational mermaids:
Archie and her sea glass: "My whole life I've had these bonkers adventures,' she said, as she drank her shandy. 'Now I feel as though I'm living. I could never leave the sea.'
The Making Waves Project: "I started photographing women in the sea by chance when, during a family photo session, the pregnant mum put on a boho dress and stood in the waves. I thought, wow, this is powerful!"