Nicky Chisholm uses adventure as a method of empowering and championing peri and menopausal women but also to contribute to important causes. She talks me through her mad pursuits to date and her latest goal, the 'Coolest Marathon on Earth'.
"I am always brushing up my inner sparkle," she told me as we huddled in her red T2 campervan 'Daisy', both of us a tad reluctant to brave the feisty breeze whipping around the Kent coast. "That's why, every year, I do something mad."
Those profound words were the prelude to Nicky Chisholm tugging on the striking pink dress she got married in 12 years ago and strolling buoyantly along the shore of Sandwich Bay. It was surreal, flamboyant and ever so gratifying. One can't help but feel that, for our whole lifetime, we humans are taught to make sense of everything. We're conditioned to be conventional. This bold act which Nicky advocated was the exact opposite of that. This was chasing a feeling. Something non tangible and liberating. Funnily enough, the specific advice of "don't wear pink," and "nothing too bright, please!" which I bestow on my clients before their beach shoot was abruptly binned. I got all rebellious and allowed myself to be whisked away by a fuchsia pink whirlwind. Oh, how we laughed. It was incredible fun, the kind of antics you never forget. Ever.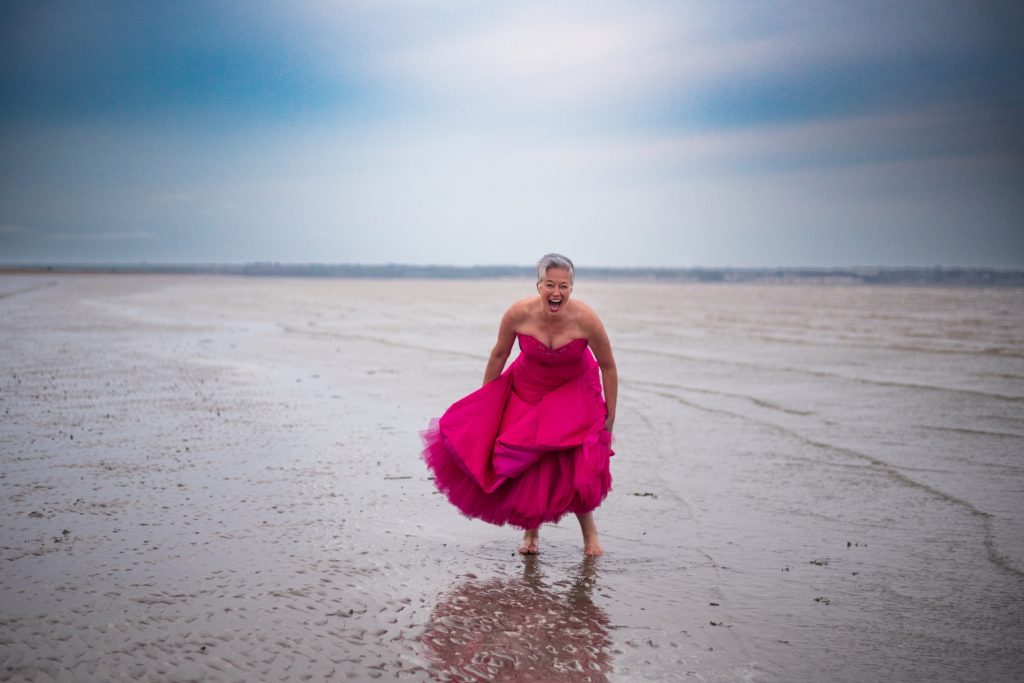 Nicky, the visionary founder of My Networking Club, had her first adventure at the age of 17 when she sailed on an old-fashioned schooner in real Pirates of the Carribean style. Since then, adventure has been a consistent theme throughout her life. A guiding force. A way of keeping sane and navigating life's many curve balls. Over the last 30 years, she has kayaked in France, trekked in Thailand, sailed on the south coast, skied in the Arctic, climbed mountains in the UK, abseiled down Spinaker Tower, moon walked in London and even pulled off wing walking. (Yes, the act of moving along the wings of an aeroplane during flight!)
"I found that being a mum, running my own business and holding the fort whilst my husband was away a lot steered me to seek ways to find myself amongst the mundane," Nicky explained afterwards, when we'd unzipped her out of the dress and we were having a comforting cup of tea. "I mean, let's face it, wiping the surfaces and folding the washing is so boring…" She grimaced self-consciously. "Oh, don't write that down!"
I scribbled it down anyway, relishing her honesty.
"Having little adventures like this recharge us," she continued, gesturing to the vast stretch of sandy beach hemmed in by chalk cliffs. "No matter what you've been through, however big or small, life has a way of grinding us down. Adding a little adventure into each day is a way of refilling and restoring our souls. All mums can find their everyday adventure. You don't need to go to Kilimanjaro. You just need a pair of trainers and the desire."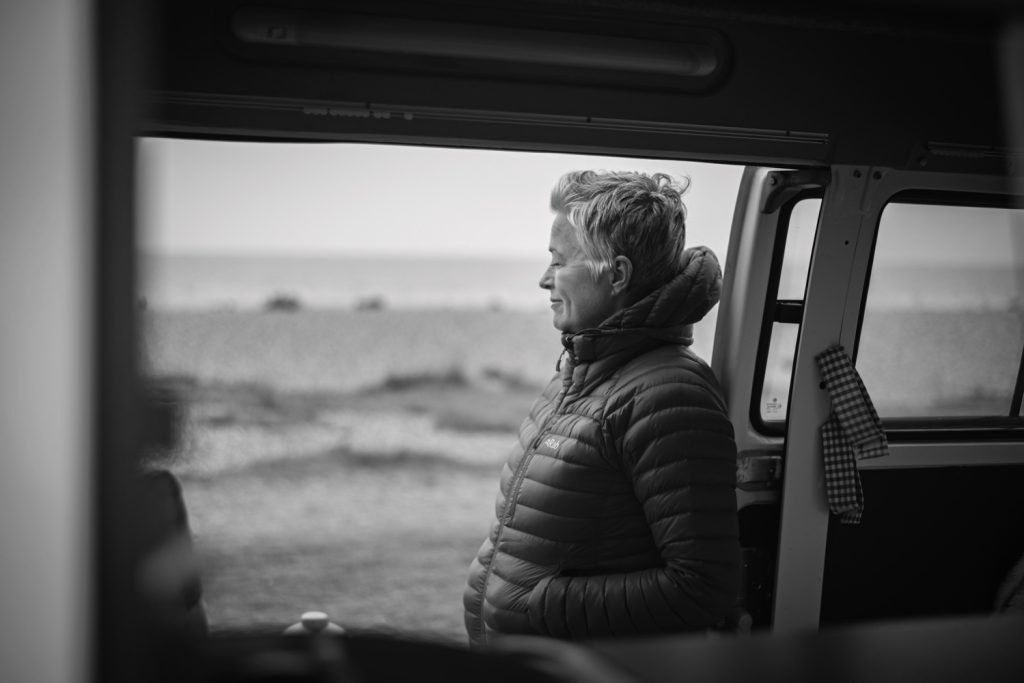 I loved Nicky's outlook. Her tales of derring-do, whilst impressive, were attainable. Relatable. Things which other mothers like myself could set their mind to achieving. I've been banging on about #mumventure for a few years now. I defined the concept as "an exciting or unusual experience that a mummy has in the great outdoors after leaving the kiddies safe and sound at school, or with their daddy or grandparents for a few hours on the weekend." It worked wonders for me after the baby years when I emerged a little dazed and confused from it all. It was instrumental in helping me to rediscover and re-establish my identity and purpose.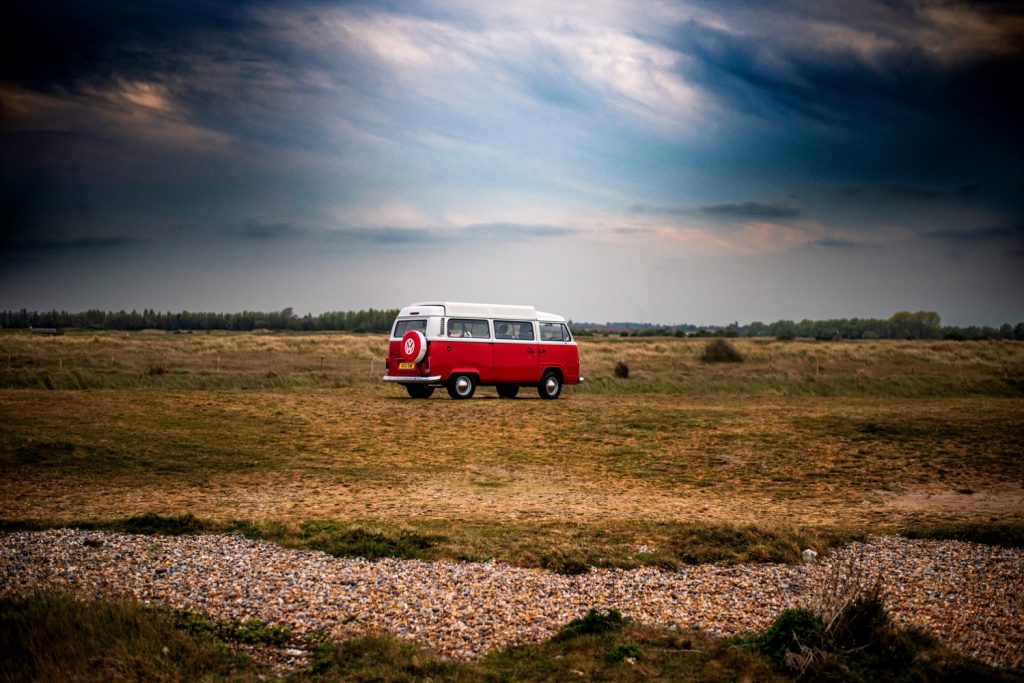 Whilst Nicky's adventures are a method of empowering and championing peri and menopausal women, they also contribute to important causes. For the last 10 years, she has raised money and awareness for the domestic violence charity Safe in Sussex and children's hospice Chestnut Tree House. She is using her voice and energy to make a difference. I tell Nicky about my achievement of walking the Thames Path for Mind and embarking on a Front Door Project for Refuge and she acknowledges my little drops in the ocean with an encouraging smile. She tells me about her next adventure in Greenland this October, running a half marathon in temperatures down to -16°C. Unsurprisingly, it's referred to as the "Coolest Marathon on Earth."
"I mean, I have no idea what you even wear for a race like that!" she laughed. "The fact is I have no kit, I've never run in the cold before and I'm a stone too heavy!" She shrugged. "But I'll do it. I will make it happen and along the way I'll be raising funds and drawing attention to these vital charities."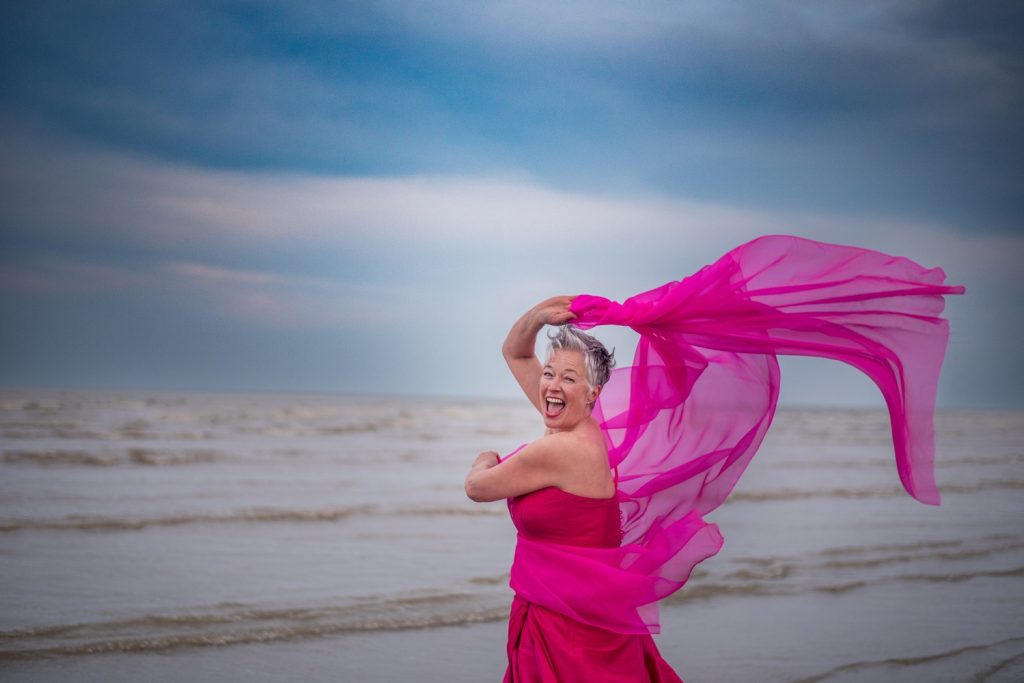 It was a privilege to welcome Nicky and Daisy to my special place that evening and waving them off, back in direction of Brighton, came too soon. I felt I'd found a role model, someone who was bursting with the same excitement I was but making a bigger bang. Her voice was stronger than mine. Her self-belief, unwavering. I absorbed her enthusiasm for triggering women to leap from their comfort zone and I resolved to do as much good with it as she was doing.
"Every time I drive Daisy I know I'm going on an adventure," Nicky said, turning the keys in the ignition and bringing her beloved VW to life. "She's provided a space to sooth troubled souls, laugh with friends, plan adventures and have much needed shenanigans. She's even more special because my dad helped me buy her. He passed away five years ago but it's his birthday today. I have no doubt he was looking down on me on that beach, in that dress, laughing his head off."
Laughing. That's what Nicky Chisholm is all about.
Nicky is now hiring Daisy out for Branding shoots, to enable businesses get creative and stand out from the crowd. Check Daisy and Nicky out on Facebook and Instagram.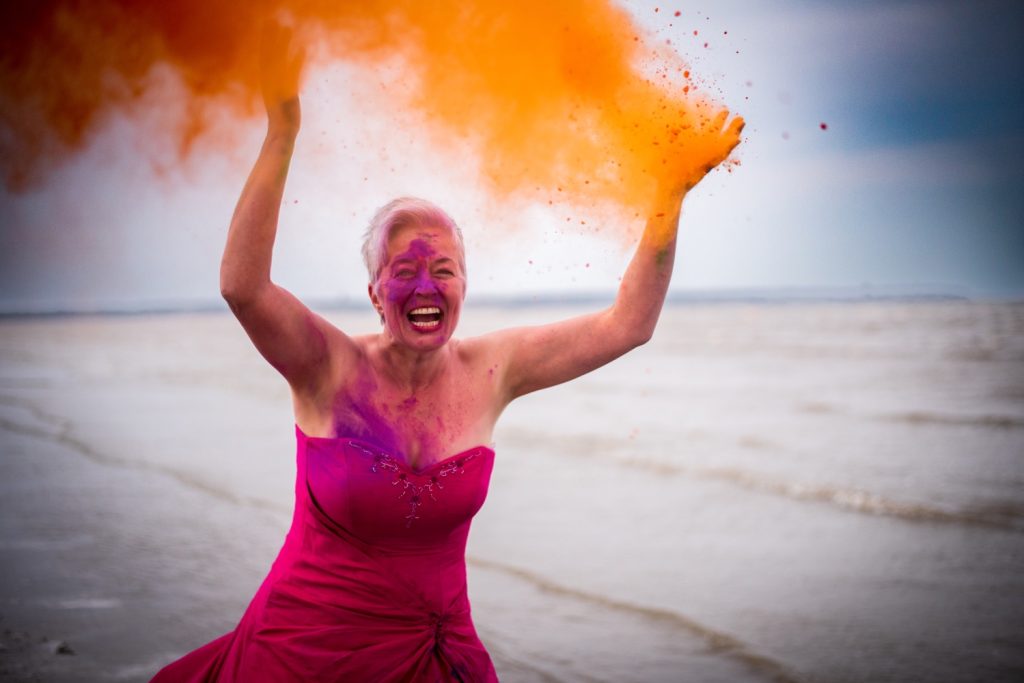 Other tales from the 'Making Waves' series which you may also like:
Supporting mothers and empowering children with artist Katie Manning: "That was the moment that I realised I had to draw cleft-affected people…"
Creating lifelines for vulnerable mothers with maternity & baby guru Charlotte Burkette: "I will never forget when the doctor told me that they thought there was something wrong with my baby…"
Regaining your identity after having a baby with yoga teacher and paddleboarder India Pearson – "It's not healthy to be absorbed by one thing."
Talking adventure with photographer, Girl In A Yellow Jacket: "I came to England because I was looking for adventure. I had £50 in my pocket. No job. I didn't know anybody at all. It was a crazy thing to do on my own."