This post is part of my #makingwaves series – intrepid and inspirational women with an uplifting story to tell.
"I came to England because I was looking for adventure," Aga told me, as we trudged through the glutinous mud underneath Whitstable pier, our cameras hanging from our necks. "I needed to see something else. Meet new people. Do something different."
It has made me a tad emotional to write this week's instalment for my #makingwavesproject because it's very personal. Last year was tough. I completed a major relocation from Hampshire to Kent and, at the same time, wrestled with some mental health baggage. During that turbulent time, fellow-photographer Aga McPherson from Poland aka @the_girl_in_the_yellow_jacket was a vital component of me finding my feet here on the coast.
I think back to that balmy evening in May 2021 when I first met her. I'd been captivated by her persona on Instagram – a figure in a bright yellow coat who churned out portraits of herself in astoundingly picturesque Kent landscapes. She was an intriguing combination of anonymity and personality. The yellow hood covering her jet-black hair. The artistic flick of eyeliner on her eyes. Lipstick-painted mouth. Within her images there was always, without fail, an encapsulation of captivating light. Sunsets. Golden skies. Orange horizons. Purple oceans. I'd only just moved back to Kent after twenty years elsewhere and she opened up the county for me, visually introducing me to places I'd never even heard of. The curved tidal pool in Margate. The Roman church towers at Reculver Bay. The famous 'street' sandbank at Whitstable. She was wildly creative, snapping her reflections in puddles. The moon in her hand. The waves on her feet. The tattoo on her back. What fascinated me even more was her wit. It was wicked. Sharp. Her Insta was awash with dry humour, a trait which, I believe, is a revelation of being down to earth, of not taking yourself too seriously. I concluded that the girl in the yellow jacket and I were destined to get on. Boldly, I asked her out on a photography date.
She said yes.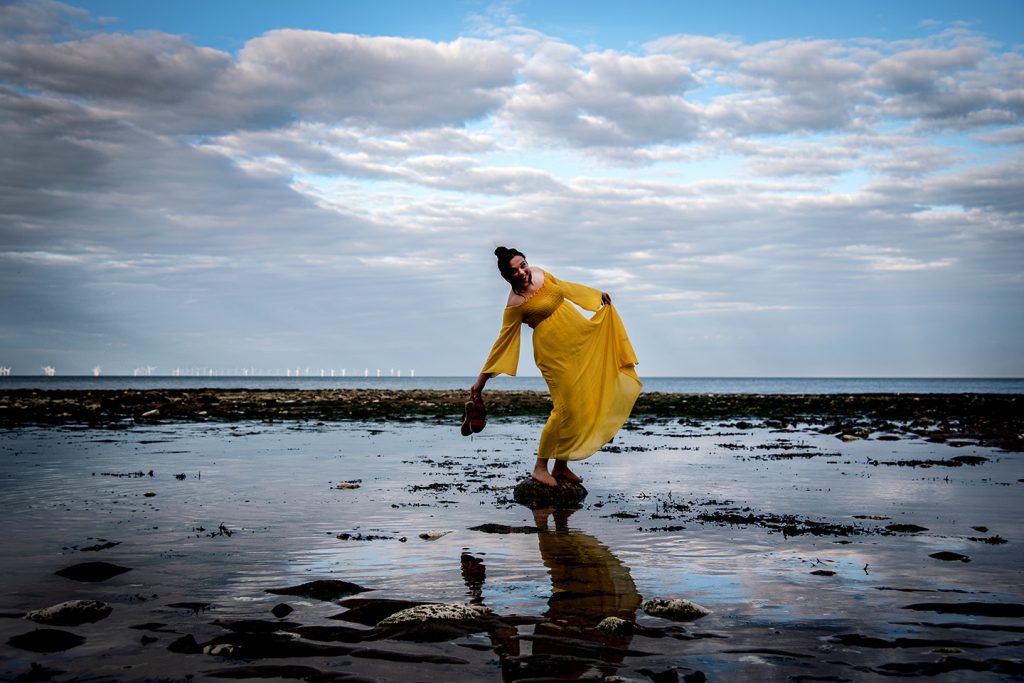 We decided to meet in the quirky seaside town of Whitstable, renowned for oysters and fishing boats. The prospect of a little adventure with this mysterious stranger had ignited a jittery excitement within me which lockdown had stolen. I parked the van in a little carpark on the seafront, paid for a ticket and slapped it on the dashboard. I retrieved my camera from its backpack and hung it around my neck. My phone beeped.
"Hey! Is that you, The Outdoor Studio?"
I glanced around. There she was. Sitting on top of the concrete sea wall. Sunglasses. Black jeans. Signature yellow coat. Ankle-length Hunter wellies. Her dyed black hair touched her shoulders. A folded-up tripod lay next to her. She took her glasses off and I noticed the signature eyeliner. She took heed of my denim dungarees and my summery Birkenstock sandals.
"Yes," I beamed, walking towards her. "It's me! You must be the girl in the yellow jacket!"
"How did you guess?" she laughed, patting her canary-coloured coat. She tilted her head in consideration of my beast of a vehicle. "That really is a van! How do you even drive that?"
"Ah, you get used to it," I shrugged.
We walked along the shingle beach lined with wooden groynes and little dingies snug in blue tarpaulin, ready to be undressed when the warm weather arrived and people returned to their holiday homes. I scanned the maritime landscape and, from a photographic point of view, didn't know where to start.
She did.
"Let's head to the pier," she suggested, pointing her tripod at the ugly jetty stretching out in the muddy sea.
"Sure!" I agreed, willing to be led practically anywhere by this new pal of mine.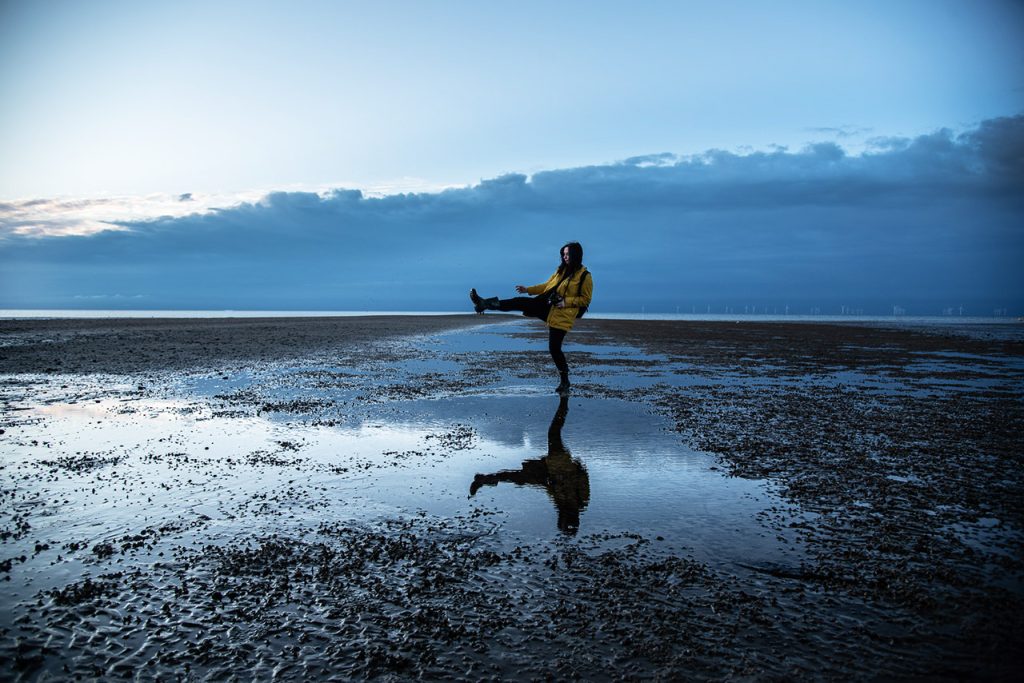 The underbelly of Whitstable pier is blocked by a shoulder-high concrete wall running alongside it – designed, I assume, to prevent vagrants and scoundrels from wandering into its shadows and causing mischief. It was, however, no match for the girl in the yellow jacket. Whilst I giggled nervously at the prospect of shimmying over it, she didn't even hesitate. Headstrong and unwavering, she set her camera down on the wall, pressed her rubber toe against the abrasive surface and then with her hands resting on top of the wall, hauled herself upwards. Her knee reached the top of the wall, and then the other. Flinging her legs over the barrier, she dropped to the squelchy ground on the other side.
My turn.
I attempted to scale the wall in a similarly assertive way but I was wearing stupid flimsy footwear which didn't grip into the wall as effectively. I grazed my elbow as I feebly hoisted myself over the barrier but ignored the injury. Together, partners in crime, we entered the inhospitable and sinister realm of Whitstable pier. A hundred concrete columns, green with algae, riddled with jagged barnacles, upheld the vast ceiling above our heads. The mud was thick and my flimsy sandals were entirely inappropriate for exploring this dark, dank place. As we ventured further within the dungeon-like realm, I found myself playing a kind of hopscotch on large stones and abandoned tyres so I could avoid caking my feet in brown sludge. I was envious of Aga wading confidently through the grime in her water-repellent boots. We idled away some time taking portraits of each other amongst the dramatic shards of light but my feet were getting damper and dirtier.
"Here, borrow my boots," she offered in sympathy after a while.
I did. They were a size too small but I shoved my bare feet in them anyway and roamed, unhampered, further into the underworld. You can guess what happened when I tried tugging them off fifteen minutes later. My hot feet were practically glued to the rubber. I hopped around in a ridiculously ungainly manner trying to remove them. Inevitably, mud squelched between my toes and flicked onto my clothes. Hot and bothered, I saw the comical side of it. We both laughed. Oh, how we laughed. That was the moment our friendship was sealed.
"You passed the test," she agreed, when we relived these antics recently, "by venturing under the pier with me. We clicked. I could see you were adventurous like me. You're one of those friends I can ask to jump out of a plane with me and you'll say yes."
Hmm, debatable…
I admire Aga's story. It's brave and ambitious. Yes, she's settled with a husband and daughter now, but her decision to come to England was a gamble. Having studied English Studies at university in Poland, she packed as much as she could into a suitcase and made the move to Canterbury, Kent. She found a landlord on Sparerooms.com and paid her rent for a month.
"I had £50 in my pocket," she recounts. "No job. I didn't know anybody at all. It was a crazy thing to do on my own."
"Why Canterbury?" I wondered.
"We'd studied The Canterbury Tales at uni," she laughed. "I liked the name!"
"And what about the girl in the yellow jacket?" I probed. "How was she born?"
She shrugged. "I had a yellow jacket. It's as simple as that. During lockdown, I felt a desire to explore beautiful Kent which I hadn't seen much of. I wanted to show people how extraordinary it was but from my perspective. That's why I include myself in the landscapes, to give them a human element."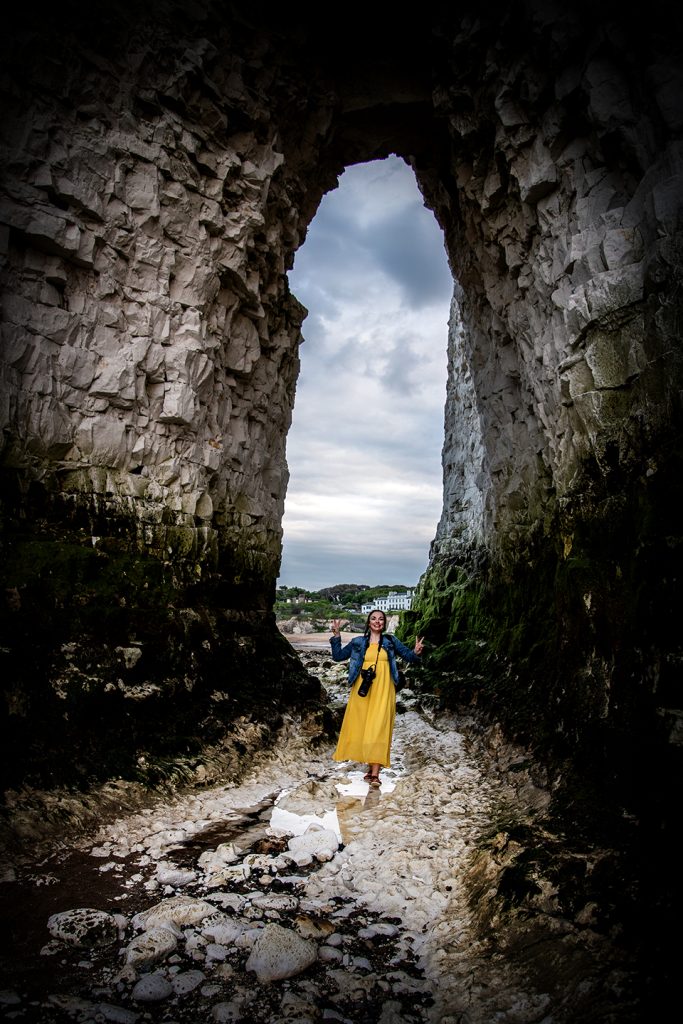 In the last year, Aga and I have had memorable adventures together. She has led me out of comfort zone. Encouraged me to be bolder. Dig deeper. Try harder. We've climbed over walls, hedges, rocks and railings on the trail of creativity. We've lain in the shallows of Dungeness Beach, had a wave smack us in the face, choked and spluttered and captured it all on camera. We've scaled small fishing boats and balanced precariously on the bow in a daft Titantic-style pose. Frolicked in lavender. Participated in a boxing-day dip. Discovered a castle. Eaten fish n' chips. Drunk beer. Above all, we've taken some blimmin' good photos. Through all of this creative and geographical exploration, Aga has enabled me to settle. She has helped me feel like me. The real me.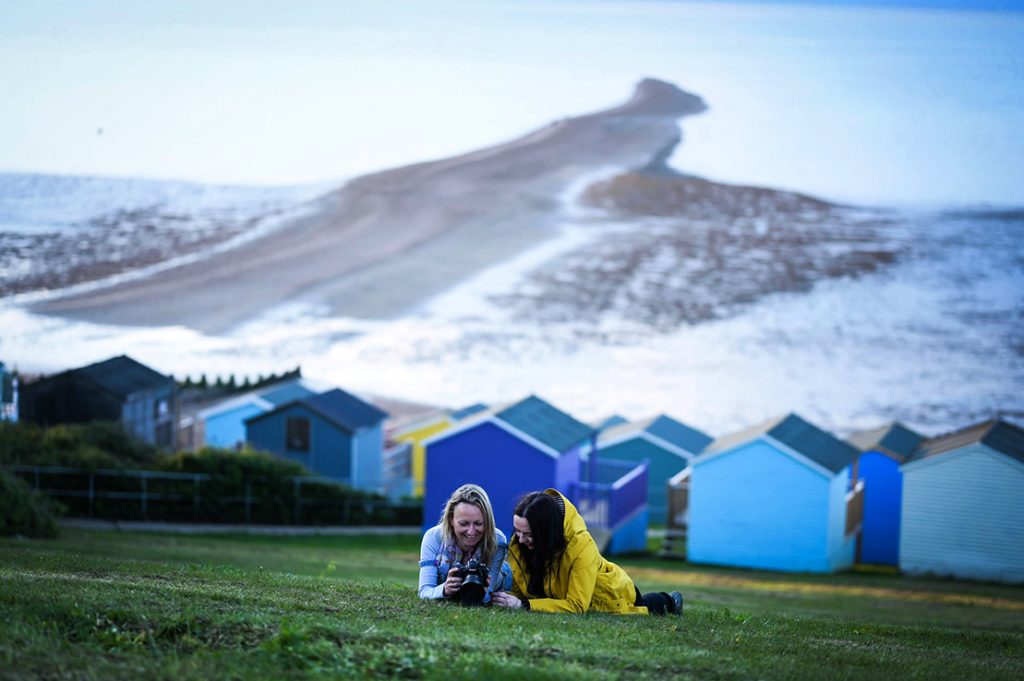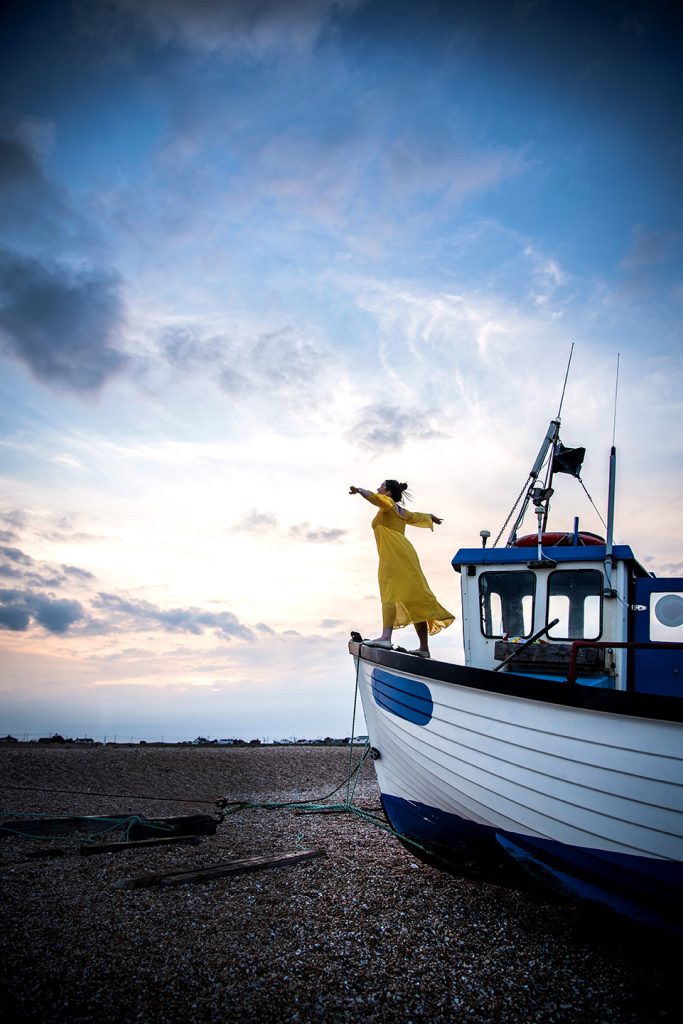 I'm writing this as a brutal war rampages through the Ukraine and refugees spill into neighbouring countries, especially Poland. Aga has recently returned from a trip back to her family in her home country and the events in Ukraine have, understandably, shaken her. Her parents are currently seeing huge numbers of Ukrainian refugees arriving in their town and, although these desperate people are receiving help, it's logistically impossible to help them all. There are just too many. I've been checking in with Aga, urging her to separate herself from the news for a while and venture out with me on a creative mission because I know how restorative and consoling it is.
I guess I've chosen to weave the war into the end of this article because I'm mindful that we should consciously keep talking about it. We cannot let the subject fade. Furthermore, I want to reinforce that whilst it might seem frivolous and indulgent to be writing whimsically about the seaside, there is a place for creativity more than ever. Art is a real outlet. Even if you're not executing it, you're absorbing it. Appreciating it. It's an incredibly uplifting tool. That is, above all, what Aga showed me last year. Producing something powerful and using it to inspire others is an incredibly worthwhile pursuit. This focus gave me such purpose when I was floundering last year, unsure of my direction and ability. It was the best medicine.
It's even better if you can find someone to create with. I am grateful for so many people brought in on the tide last year, who opened my eyes to new and exciting things and enabled me to be a better version of myself. Individuals who are kind, wise, worldly and above all – fun.
Just like Aga McPherson.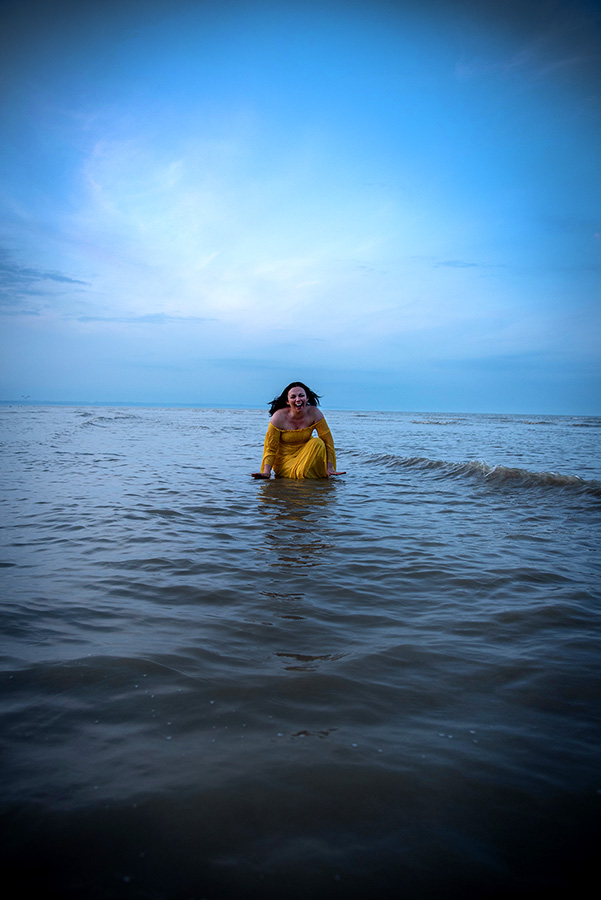 Read other tales from intrepid and inspirational mermaids:
The Making Waves Project: "I started photographing women in the sea by chance when, during a family photo session, the pregnant mum put on a boho dress and stood in the waves. I thought, wow, this is powerful!"
Imogen and healing power of sea swimming: "You can't out-run grief. It follows you like a shadow."
Archie and her sea glass: "My whole life I've had these bonkers adventures,' she said, as she drank her shandy. 'Now I feel as though I'm living. I could never leave the sea.'