This post is part of my #makingwaves series – intrepid and inspirational women who have an affiliation with the sea.
It started with a birthday card.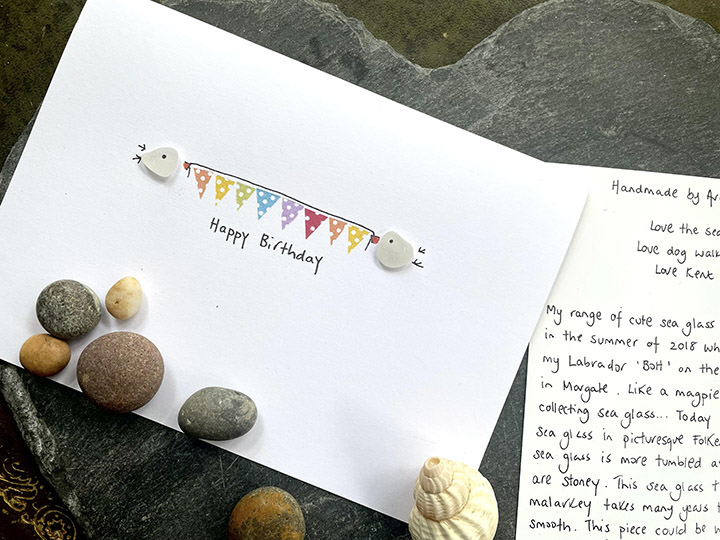 It was embellished with tiny pieces of sea glass. Enclosed was a photograph of the artist and her golden Labrador paddling in the sea. Her name was Archie. She was a fellow Kent girl. A kindred spirit?
I contacted her and a week later we met up so I could shoot some befitting images for her brand. I arrived (at a secret location, I'm afraid) with my camera, scanned the shoreline and zoned in on a woman on her hands and knees sifting through shingle with a canine companion.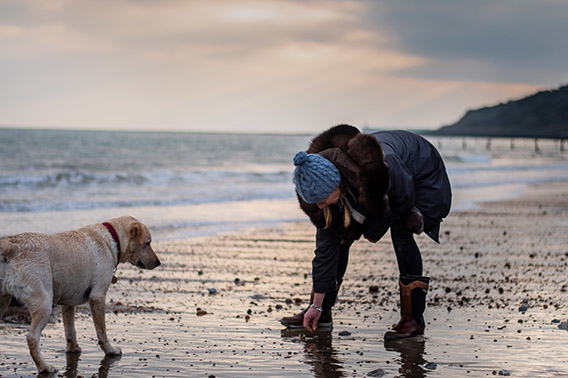 Bolt woofed and wagged his tail as I approached. Archie beamed.
'I moved to Kent in 2018,' she explained, 'and started walking Bolt on the beaches. Like a magpie, I began collecting sea glass. My friends and family teased me and said, 'but what are you going to do with all of this stuff?' and that's when I started making sea glass cards.
Archie unzipped a bag and revealed her treasure – hundreds of polished, smooth pebbles. Aqua marine, cobalt blue, bonfire, galaxy, dragon eggs… She talked me through each unique piece. My eyes lit up, partly because her haul was so beautiful but primarily because she was teaching me something new.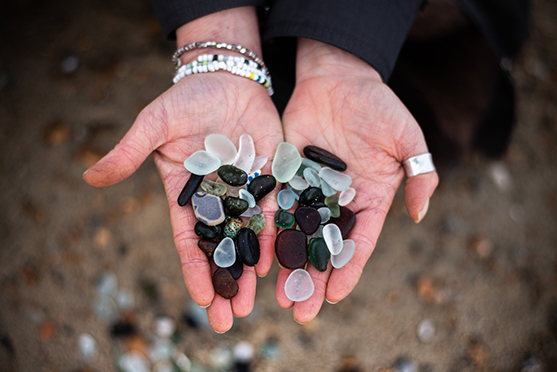 Archie was a pleasure to photograph. A true free spirit. She put her ear pods in, stood in the waves and danced as though nobody was watching. At the end, she waded into the sea with Bolt, courageous in the cold.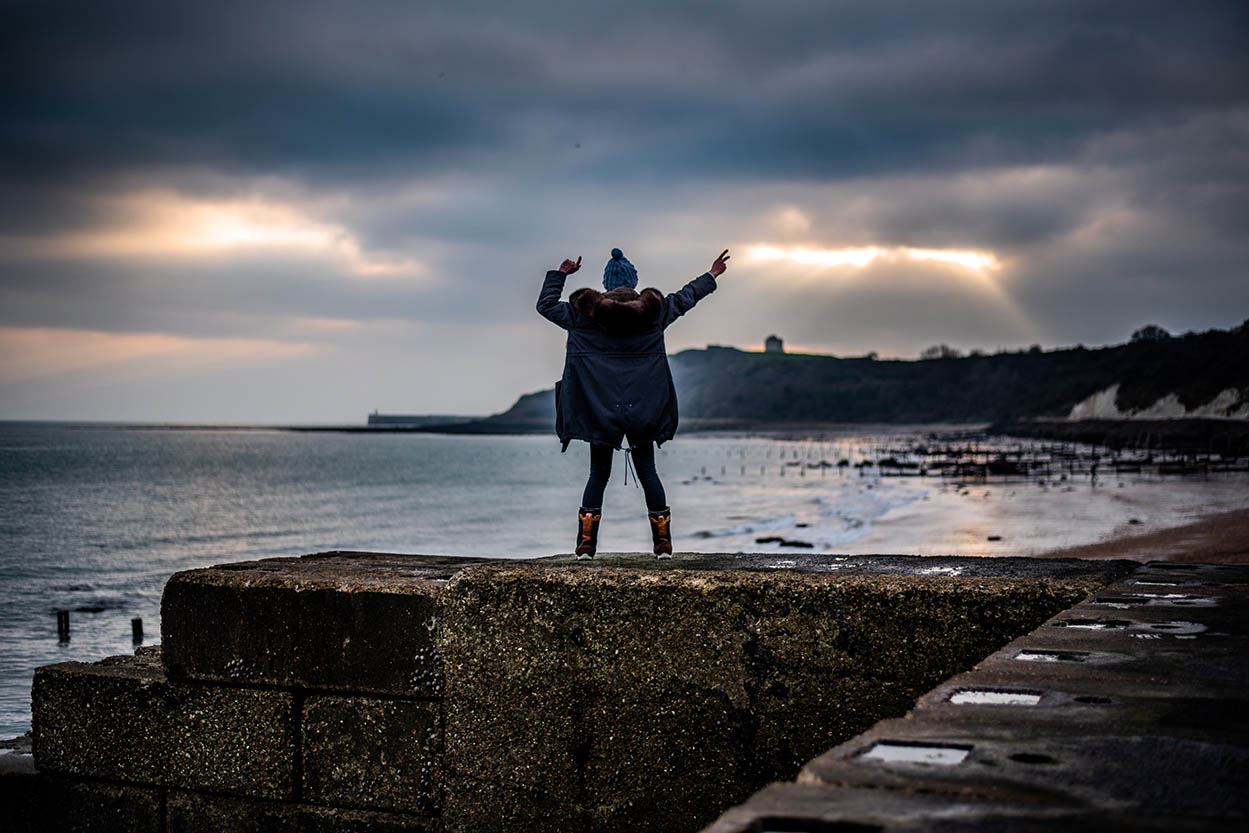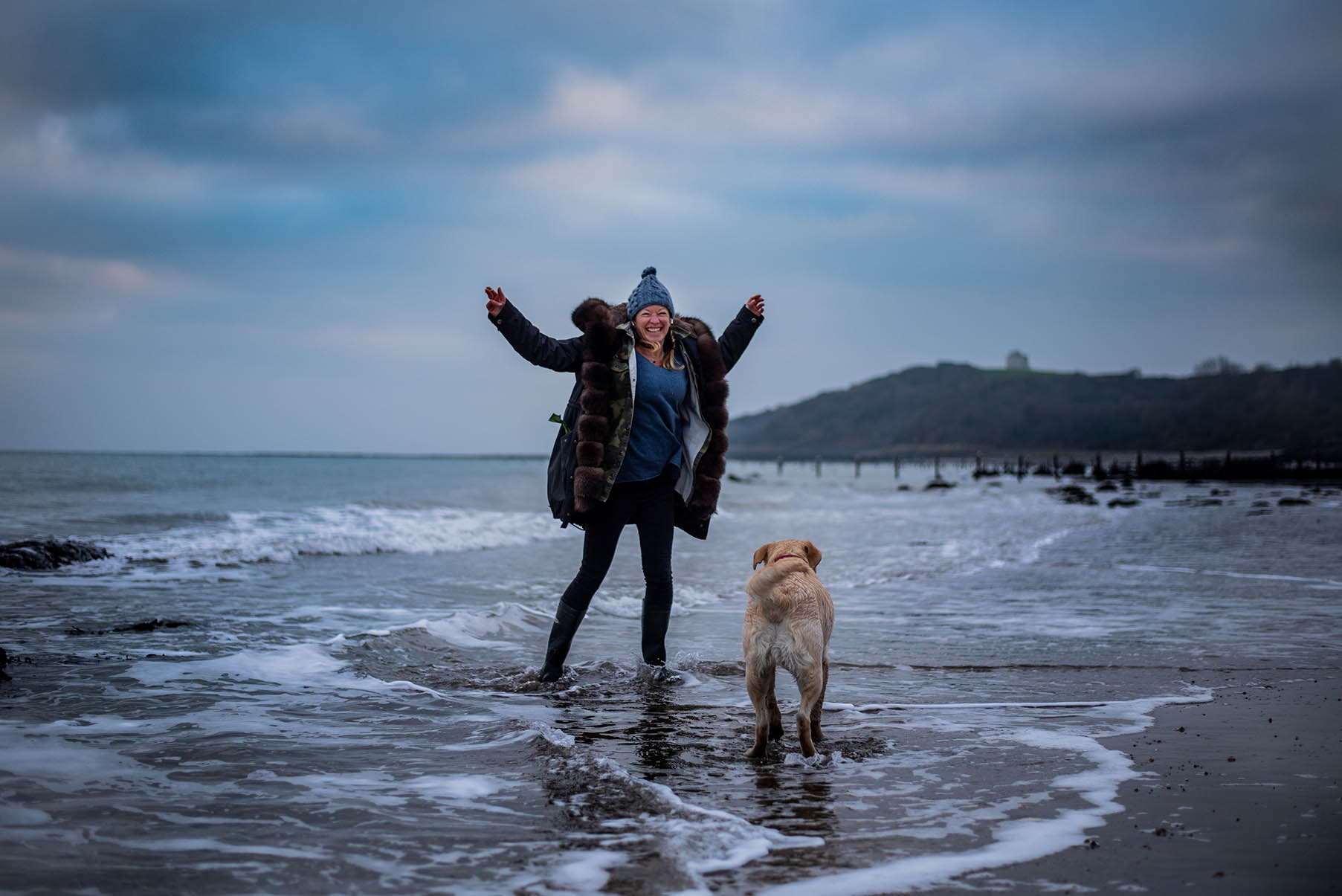 Archie's tale is full of light, but her story has dark patches too. She talks of financial success and personal loss. Giving up a lavish house in London for a modest home on a boat in Sandwich harbour. She has lived a life of highs and lows and that's how she likes it.
'Wouldn't you rather live a life like that?' she said, when we ended up in the pub afterwards. Rather than a life like this?' With her left hand, she drew a straight, uneventful line.
I would. I do.
'My whole life I've had these bonkers adventures,' she said, as she drank her shandy. 'Now I feel as though I'm living. I could never leave the sea.'
It turned out we had a LOT in common.
Read other tales from intrepid and inspirational mermaids:
Imogen and healing power of sea swimming: "You can't out-run grief. It follows you like a shadow."
The Making Waves Project: "I started photographing women in the sea by chance when, during a family photo session, the pregnant mum put on a boho dress and stood in the waves. I thought, wow, this is powerful!"