This post is part of my #makingwaves series – intrepid and inspirational women with an uplifting story to tell.
"Sailing was a way for me to be normal. Nobody looked at me like I was disabled."
When Hannah Stodel reached out to me, asking to contribute to the #makingwavesproject I was excited. Despite being born without her right lower arm, Hannah has notched up staggering achievements in the world of professional sailing – 4 x Paralympian triple world champion. 17 world cup gold medals. First disabled sailor to sail non-stop around Britain and Ireland. As a woman who has overcome major setbacks and never given up on chasing her goals, it's no wonder she's also a sought-after motivational speaker. Her recent role as a judge at the SHE Awards demonstrates just how respected and inspirational she really is. I knew she'd be an asset to the #makingwavesproject and naturally, I was thrilled at the prospect of having her all to myself for an hour on one my favourite Kent beaches.
I liked Hannah as soon as I met her, in that little carpark overlooking The Warren near Folkestone. All those impressive tough girl credentials I'd read about were suddenly softened by her genuine smile. She was bubbly, earthy and very easy to connect with. We rummaged around in the boot of her car for a selection of clothing to shoot in and then moseyed down to the sea. It was the end of March and we'd been blessed with a mini heatwave. The sea was placid. The sky still. The beach quiet. For the next hour, it would belong to us. It would be our playground.
Hannah has grown up on the East coast of the UK and had travelled to see me all the way from her home in Southampton, a stone's throw of the Solent. She lives and works on the sea. It's a career and a lifestyle. Still, when she stood next to me on my beach, she turned her face towards France, contently closed her eyes and deeply breathed in the saline breeze.
"This is beautiful," she said appreciatively. "I love the Channel."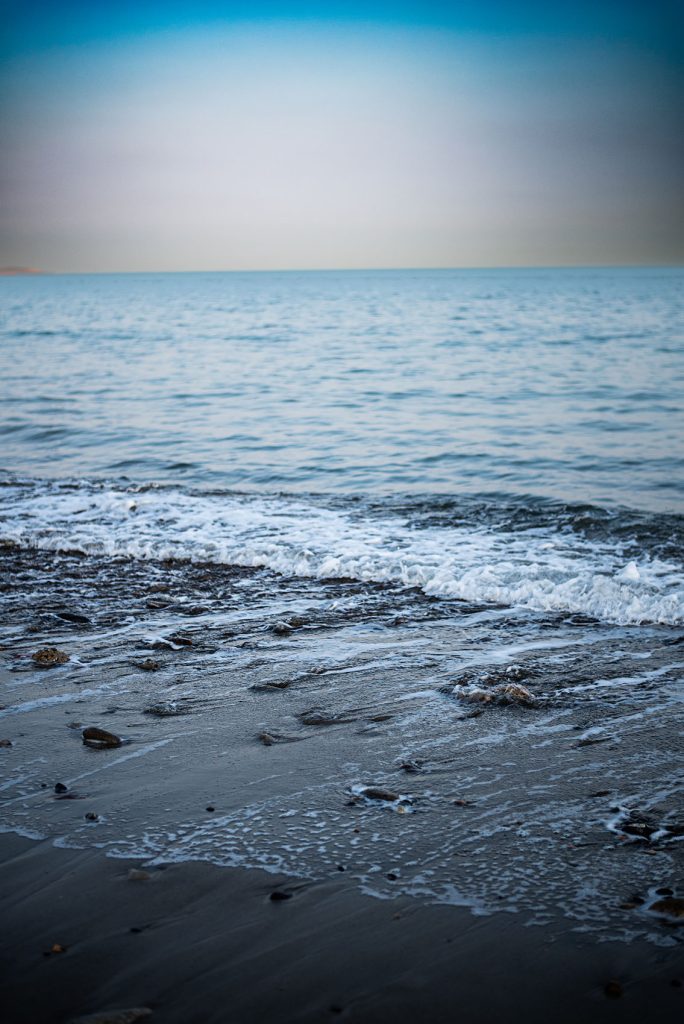 Hannah's recognition of the stretch of sea which had become so meaningful to me in the last year really touched me. She could easily have been blasé about her domain, but she wasn't at all. She looked at the gentle waves as though seeing them for the first time. The sea was clearly in her soul. I detected a very genuine bond between her and the wild water.
"Freedom," I mused, as we walked along the beach.
"Indeed," she agreed, "and that's what sailing was to me. An escape from school and bullying. I was a different person when I was at the sailing club. Yes, I had a disadvantage but I didn't let it beat me. I have always found weird and wonderful ways of achieving things. A disability forces you to adopt a 'can-do' attitude. You have no choice. If you didn't have this mindset, you wouldn't go anywhere or do anything."
"So, tell me where you've been!" I asked, my eyes filling up with wistful wanderlust. "Everywhere, I bet!"
"More or less," she giggled modestly. "I trained and lived in Rio for X years. Sailing under the statue of Christ was one of those impressive and unreal experiences, you know one of those 'oh my god' moments. Sydney Bridge was also unforgettable. China was, erm, different. I loved San Francisco too."
My mouth dropped open. "With work like that, do you ever bother going on holiday?"
"No!"
"Hmm, do you think that if you went on holiday, you'd end up sailing?"
"Probably!"
"I get the impression that you find it quite hard to stand still?" I grinned. "Am I right?"
"Yes!" she laughed good-naturedly. "I always have to be doing something! I want to be wherever the action is."
Hannah's energy emanates from her. It is hardly surprising that so many doors have opened to her during her sailing career. She has relentlessly knocked on them. Kicked them down, even.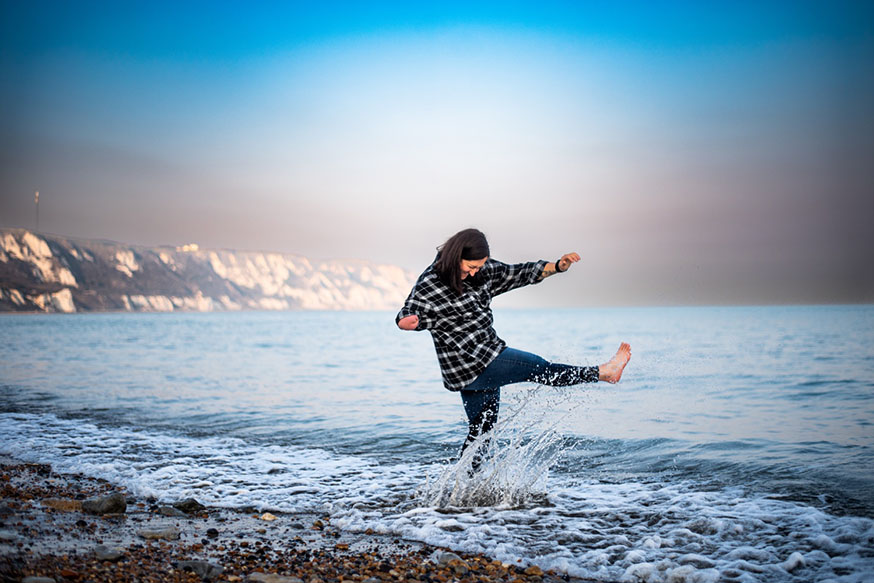 "So, what's the secret to your success?" I asked her.
"People," she said, without hesitation. "The people in my circle enable me to keep moving forward. These people believe in me even when I doubt myself. They cheer me on and always know what to say even in the darkest of moments."
"Your tribe," I acknowledged.
"Yes," she agreed. "The people who make me a better version of myself. I couldn't do this without them."
This statement resonated with me. In the last year, after relocating to Kent and trying to build a post-baby identity, I allocated huge importance to finding my kind of people. Fireflies, I call them. Little lights which appear in your life and guide you along the route you're destined to follow. There are a dozen or so men and women who have shaped this unsteady stage of my life, who have made be bolder and braver, who have given me the impetus to keep photographing and writing and striving. I related to everything Hannah said about the different coaches, mentors, managers and teammates who've shaped her career and her character.
As the sun started to sink and the sky dimmed, I took some portraits of the woman behind the sailor. Hannah had warned me that being photographed was not an aspect she was comfortable with but I reassured her a photoshoot with me is like two pals messing around. It is meant to be fun. It is meant to bring joy.
And it did.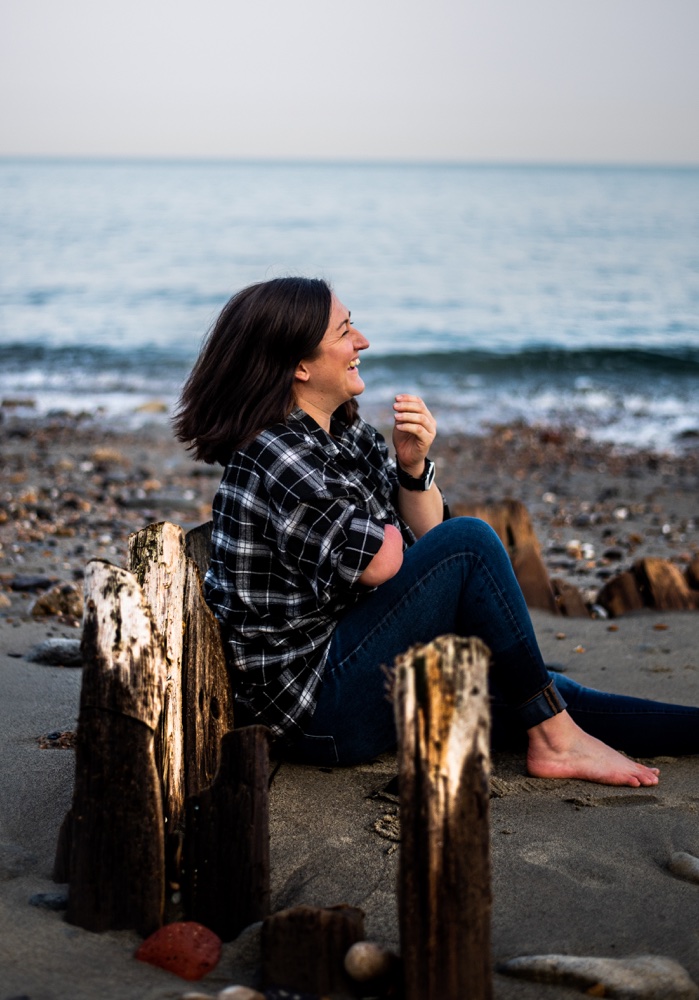 With the photography in the bag, it was time to talk about the future. 16 years into her career, Hannah is now ready to take on the toughest race, the Vendee Globe. If Hannah can conquer the 'Everest of the Seas', all 24,000 miles of non-stop and unassisted circumnavigation of the world, she will be the first disabled sailor to do so. She is, however, adamant that her journey towards this great goal remains authentic.
"I won't sell my soul to get ahead," she vowed. "I'm reluctant to collaborate with brands who aren't right for me. Yes, I've missed opportunities because I'm selective about who I endorse but if I don't stay true to myself, I'll regret it. Eventually, I will find the right sponsorship and team. Yes, it's difficult. Yes, it's a struggle but if it was easy, everyone would be doing it."
They were wise words and this resolute integrity made me admire Hannah even more.
"You're astounding," I told her. "You are breaking down barriers and making other people want to do the same. I've found it difficult in recent years to balance my need for adventure and my commitment as a mother and wife, but you spur me on to find a way."
"Never listen to people who tell you that you can't do certain things," Hannah smiled encouragingly. "I never have." She let out an exasperated sigh. "We really do need to stop putting people in boxes. Knickers to it all, that's what I say!"
"Knickers to it all?" I repeated. "I've never heard that before!"
It was time to go our separate ways. Our time together had been effortless and rewarding. Our union was everything my project stood for. Two women coming together to create something notable. A conversation. A picture. An experience. Something that would enrich both their lives going forward.
"Thank you," she said at the end of our time together. "I really feel as though I've done something different."
Coming from a someone like Hannah Stodel, those words meant the world.