Why should you book a family photoshoot? Why do you need a professional photographer? Because what you will gain is something that you can never create yourselves. I feel so strongly about the benefits of hiring a professional to take some beautiful photographs of you and your family. Even I need to hire a pro from time to time…
It was a cold but bright day in January, we leapt at the chance to have a family day out, as in OUTDOORS. There hadn't been a lot of sunshine in the last few months, so when it emerged, you felt compelled to get out there and enjoy it.
We decided to go to The Vyne, a National Trust house and gardens near Basingstoke. I made the picnic, packed the hats, gloves and scarves, and –
MY CAMERA.
"Should I bother taking it?" I pondered. Frankly, it can be quite cumbersome to carry, what with all the standard family paraphernalia.
"Yes, take it," my husband urged. "You can take some nice photos."
Yup, determined to capture this lovely day in our family's life together, I agreed. New memory card in, batteries charged.
Did I take any photos?
Nope.
Not a single one.
Why?
Because I was being a mum.
I was lifting the little one up on the bridge so she could look down on the weir below and throw sticks in. I was holding her hand as she walked along a little brick wall. I was looking for a place to sit and have our picnic. I was dishing out the picnic. I was wiping faces after the picnic. I was accompanying children to the toilet. I was changing a nappy. I was queueing for 10 minutes to buy a bottle of water. I was perusing the second hand book shop with my eldest, seeing if there was anything suitable for her to purchase. I was carrying coats when they got too hot. I was supervising the littlest in the big house, making sure she didn't climb on any of the chairs or touch any of the ornaments. I was persuading her out of muddy puddles, keeping tabs on her when she went too close to the river, worrying I'd lost her in the playground, and then picking her up and slinging her over my shoulder when it all got too tiring and she fell to bits.
If you're reading this, you're probably a mummy and as you know, it's very time consuming being us. For me, it's often totally unrealistic to be a photographer at the same time. It just doesn't happen. So much goes into taking beautiful photographs, I find it incredibly difficult to juggle creativity with wiping snot, dishing out biscuits, and generally making sure nobody gets lost/runover. Furthermore, I rapidly descend into shouty mummy when I'm taking photographs of my own children, my professionalism goes out the window and I find myself getting ridiculously stressed with their lack of cooperation. My husband is usually ever-so-useful in most aspects of family life, but NOT family photos. It's just not his thing. He huffs and puffs and looks like he'd rather be anywhere but in the woods/garden having his photograph taken.
That's why, when we went on our holiday-of-a-lifetime to Mauritius last Easter, I booked a professional photographer.
Does that surprise you?
Why? I'm the same as you when I'm holiday with the children, there's no let-up, and I didn't want to get home and feel disappointed that I didn't have enough memories of our time together. Furthermore, I wanted to be in the photographs and, I hope this doesn't sound vain but, I wanted to look half decent. Not styled or made-up, just placed in some good light and at a flattering angle! Aside for a selfie or two, this wouldn't happen otherwise. I wanted to remember this moment of being mummy to three beautiful children in years to come.
Before we left home, I did some rummaging around on the internet and discovered Beata Albert, a female photographer living in Mauritius. Beata specialised in dreamy, carefree photographs of families on the beach, just what I wanted… and so I booked her. We met on the 15th April on Flic-en-Flac beach in Mauritius, and we clicked straightaway, not just in the photographic sense, but in the like-minded sense. Beata was warm, friendly, enthusiastic, everything that I needed her to be.
The photo session was brilliant and I concentrated on just being mummy, helping the children and husband relax into the photographs so Beata could do her job. I didn't feel stressed when my son asked after 15 minutes whether he could go home now. I didn't feel anxious when the baby decided she'd had enough, wailed and demanded a cuddle. I just went with it. Whilst it clearly wasn't the best moment of my husband's holiday, he behaved and did what Beata asked him to do. She got so much more out of him then I would ever have been able to.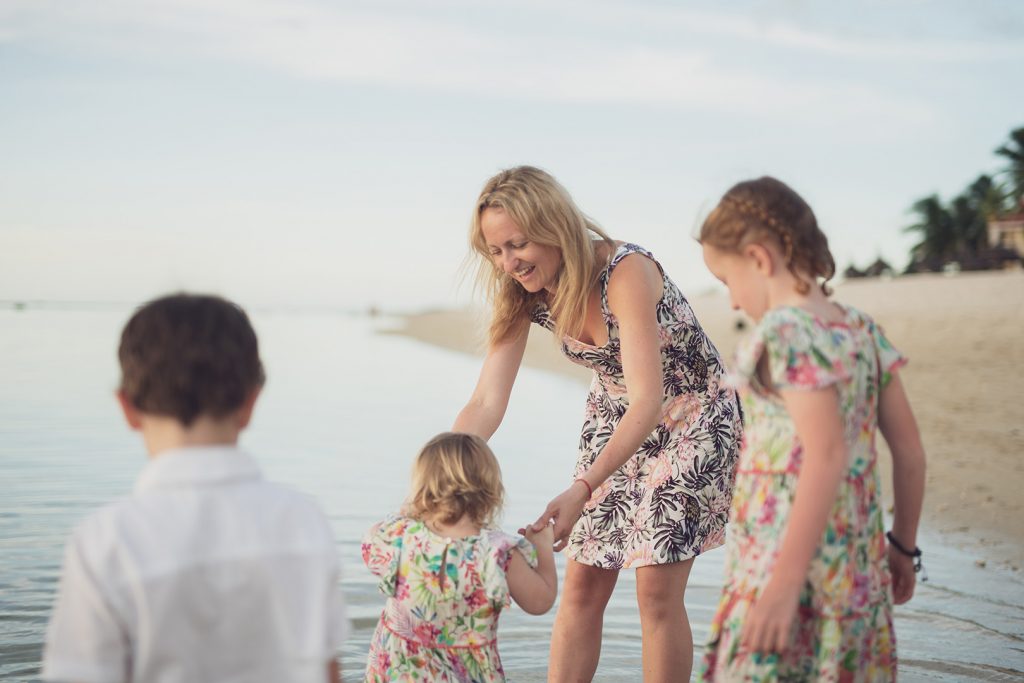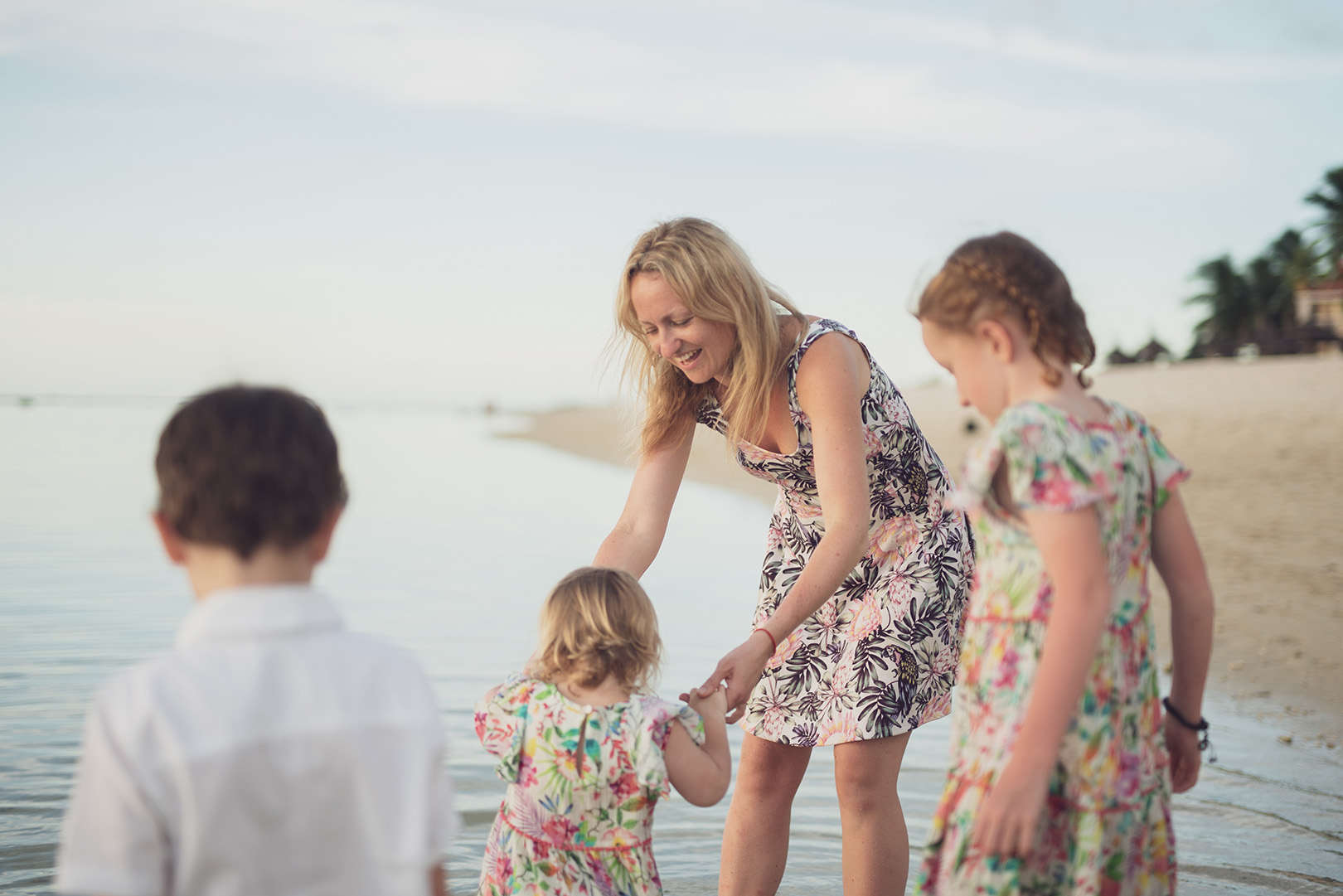 This experience reinforced just how worthwhile and essential a professional photographer really is. For me, it means the world to have photographs of me and my husband looking happy and relaxed with our children, as it's such an important time in our life and something I cannot capture myself. I've tried so many times, putting the camera on a tripod, setting the timer and then darting back into the photograph. I never get the results I had in mind! If you choose the right person, you will be bowled away by their enthusiasm, efficiency and creativity and you will realise it was entirely worth every pound spent. A professional photo session doesn't break the bank these days; I charge families £295 for 40 beautifully edited images on a USB which I believe is a reasonable and affordable price. I believe families should hire a photographer once a year. It's so worth it. If I ever have the good fortune to go back to Mauritius, I will be hiring Beata again.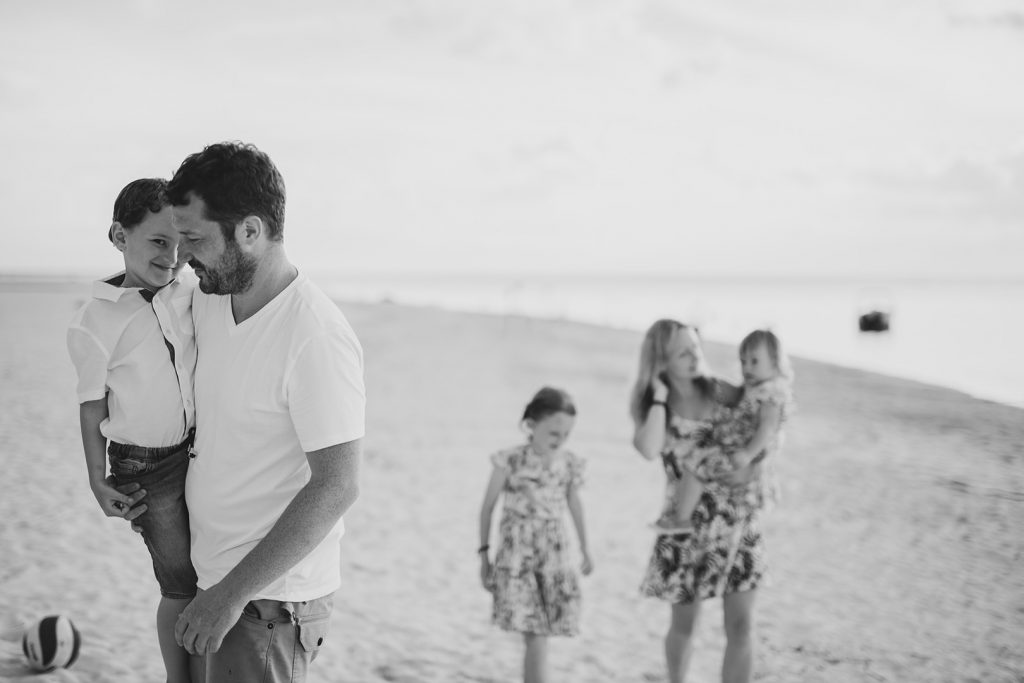 What a good photographer will do for you:
Relax you: For most of us, being in front of the camera is not a comfortable place to be. I don't enjoy it any more than you do. A good photographer has a way of slowing the experience down, letting you warm up, and reassuring you throughout. He/she will also be able to do this for the children too, who can find being photographed by a stranger very unsettling. When you see your children relaxed, you will be too.
Photograph you in a flattering way: I felt pretty self-conscious during our photo session, partly because I was having a bad hair day and awkward skin phase. I also hate my profile. There wasn't one photograph which Beata took that made me feel bad about myself because she knows how to photograph people. The same goes for the double chin you think you have (but don't really) and the big nose you have (but don't really). Your portrait photographer will have a way of lessening your imperfections and capturing you at your best.
Put you in the right place at the right time: in the above scenario of my family day out at The Vyne, the winter sun was pretty dazzling and, in order to get a good photograph of one of my children, I would have had to give quite a bit of thought to positioning and lighting. It's harder than it looks. A true pro, Beata made use of the amazing sunset in Mauritius at our photoshoot. She knew just where to place us to get extraordinary results.
Gain your trust: If you've hired the right person then this should be easy to do, you'll feel confident to be led by the professional. Allow him or her to do their thing. They'll undoubtedly have assessed your family's requirements and will be working to a rough plan in their head, taking into account whether the baby is due a nap, or the two year needs some time to warm up and get used to the camera. Me – I always get my priority shots first, and then if the children are still compliant, I carry on – everything else is a bonus! I'm always very conscious of the attention span of the little ones. Beata, a true professional, did in fact manage to get the shots in the bag before my littlest one had wilted. She knew exactly what she was up against.
Make you matter: It's not just about the lovely little children, it's also about YOU. A good photographer will be aware that, despite your protests and tendency to shrink away from the camera, you and your husband NEED to be in the photographs. My brief to Beata was actually to focus on capturing a family portrait, that was the most important shot of all. I wanted to make sure my husband and I were in as many of the pictures as possible. This is exactly what she did.
Capture memories: pudgy little hands, tiny shoes, warm hugs, big smiles, endearing tears… You think you'll remember these things forever, but you won't. Having them documented so you can look back and get that warm, fuzzy, sentimental feeling, is worth it's weight in gold.  
Be transparent: Before you embark on your photo session, you need to be clear about how much it will set you back. How much are these dream photographs going to cost you. Like me, Beata had a very simple one-off fee, no hidden extras, no awkward surprises. We knew exactly where we stood.
So, when are you going to book…? 😉