On the 1st January 2022 I set myself a challenge to run five kilometres every day. No excuses. Whatever the weather. Whatever my mood…
The distance was no problem. I was used to it. The routine and regularity was the bit I was going to find hard. In other words, the commitment. The discipline. However, I needed it. My highly addictive tendencies get the better of me in December. The quantities of wine tend to snowball and I hurtle towards hangovers and self-loathing. It bothers me because I know I can be better. That's why I set myself this challenge of running every day. It's a way of picking up my self-esteem. It's just for me. Nobody else. Just me.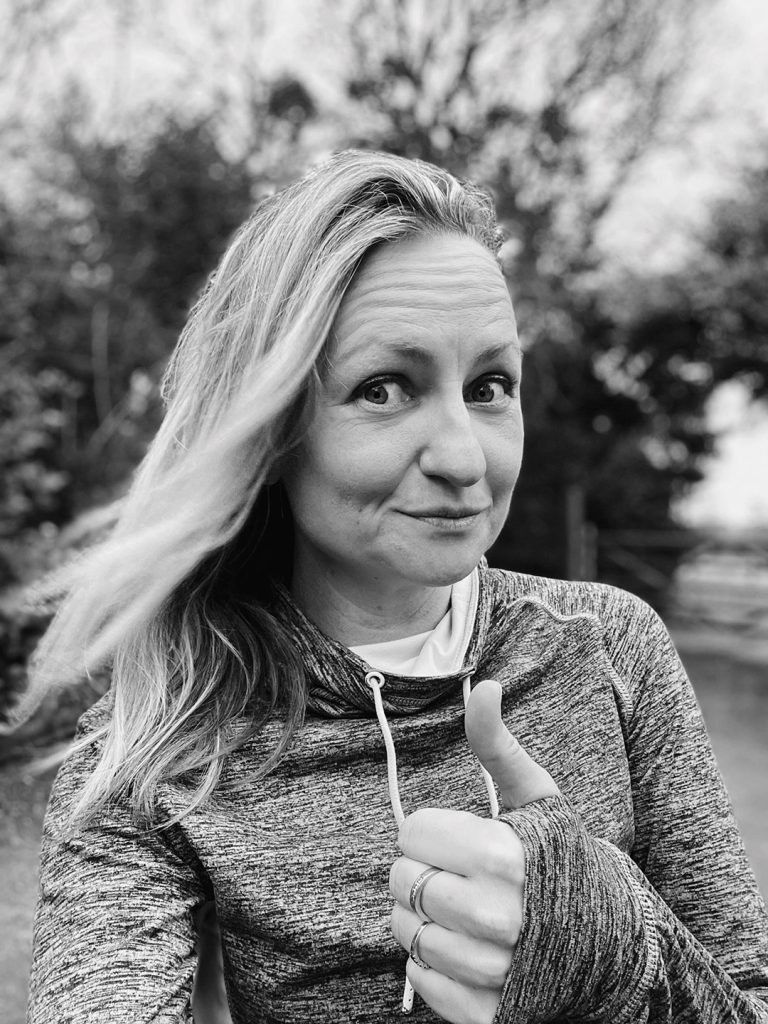 Running through the eras
I started running at university, in 2001. My pursuit of this vigorous exercise was actually a manifestation of a pesky eating disorder and an exhausting compulsion to burn calories constantly (that highly addictive personality of mine again!) Thankfully, I recovered in my mid-twenties and running became more synonymous with my mental health rather than staying slim. I ran a lot. In fact, the only time I stopped running was during my three pregnancies. The jiggling of a baby in my womb felt unnatural and odd. For a while, brisk walking became the alternative medication for my mind instead.
For me, running has always been an escape…

Charlotte Broster
Running is a physical fleeing from the four walls around me. A change of scene. An outlet – these days, from the never-ending washing pile and the dreaded imposter syndrome I feel most days I'm trying to grow my photography business. Running has always been an inner release too. A realm where I can nobody or I can be somebody. I can run to myself, or I can run from myself. I can lose Charlotte, shake her off, or I can set out to find her. It depends on how I'm feeling and what I need from the run. As someone who has fought to stay on top of their mental health for decades, I fear inactivity. Sometimes standing still exacerbates my lows and I've found, over the years, movement is the only way of staying away from that black hole constantly in the periphery of my vision. Keep running and you'll never fall into it.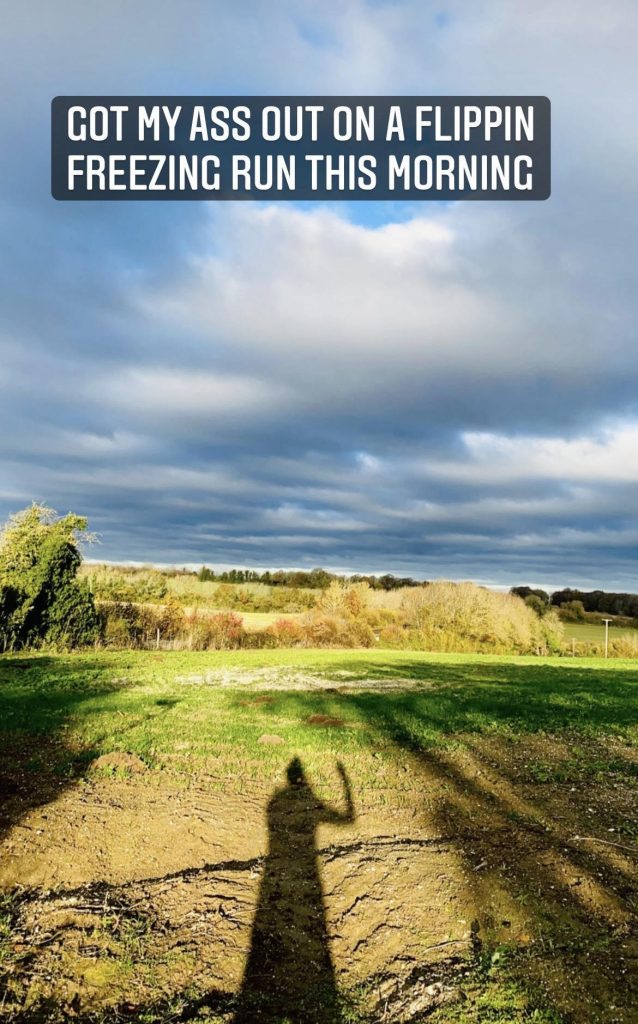 No barriers
I relish running because it is so accessible. I can literally start exercising as soon as I step out that front door and my feet hit the tarmac. I can claim time for myself but not too much. Sometimes my husband and children don't notice I've gone and returned! Moreover, there are no car journeys, carparks, changing rooms or direct debits. I can do it on my own if I like or I can team up with a like-minded, equally able-bodied pal. There is such boundless freedom in running, however you choose to do it.  
A mixed bag
I wouldn't say I'm a natural runner. At school, I never excelled at long distances. I can't imagine completing a marathon and I rarely run further than three miles. Some runs really are a chore, my body drags, every step is an effort and I can't wait until it's over. The metres tick torturously slowly on the tracker. Some runs, however, see me with springs in my steps. Leaping over obstacles like a gazelle. Feet barely touching the ground.
Different environments
We used to live on the outskirts of Reading, on the border of Berkshire and Hampshire. Here I had the choice to pass through built-up areas, to hack through the jungle of society, and so sometimes I did. I ascended and descended foot bridges over busy roads. Tentatively negotiated impatient drivers at junctions who were spurring to get on and reluctant to spare ten seconds to let me cross. Vehicles would pass dangerously close to me as I hotfooted along tapered pavements and I'd feel disheartened by their senseless aggression. I'd smell the grease of the Chinese takeaway. Observe schoolgirls alighting from the bus with their skirts rolled high and jabbering things like, "She punched me first!" I'd notice a forlorn soul sitting at the bus stop with his head in his hands and it would trouble me. Still, I ran on. Seeing the drudgery of daily life would be a blunt reminder of how fortunate I was to have secured all I had. It would instil a briskness to my pace, a fire in my heart. I'd resolve never to let my life become drab and washed-out. I would ensure my time on this earth would be extraordinary.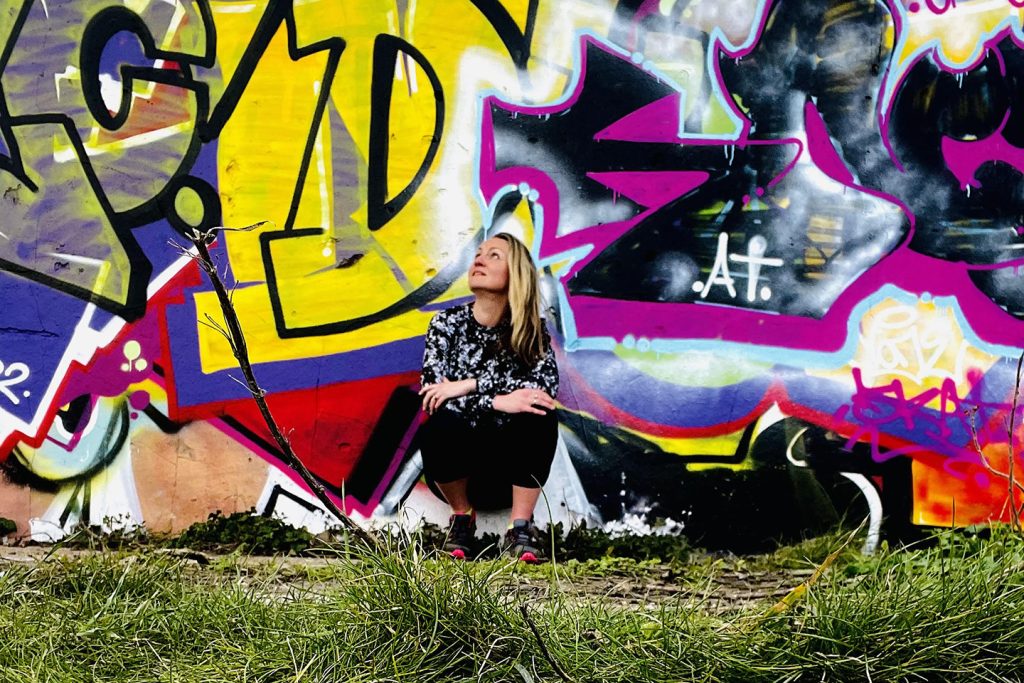 When we moved to a rural village in Kent in 2021, my runs became more remote. I now run along footpaths adjacent to horse fields, and narrow country lanes where, if you meet a lorry, you have to scale the bank, latch onto a prickly bush and breathe in. The sea is a short drive away so I can now incorporate the coast into my runs. On the weekend we often head to Sandwich Bay as a family, in our VW camper aka Miles, and I alight at the town's train station and run the 5K to the beach. It's an easy, flat run with an awe-inspiring finish line.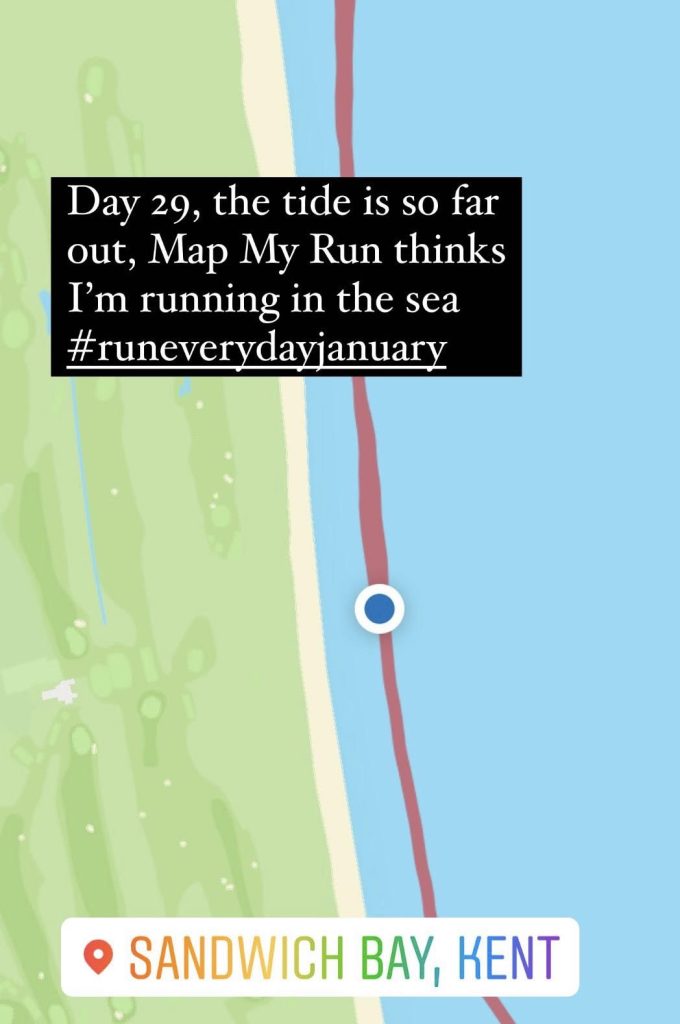 It goes without saying that the countryside is a truly liberating place to run. The magnitude of space conjures up great possibilities in your mind. Wide open fields. Endless and intricate forests. Puddles that are asking to be jumped in. Rain which tickles your face and causes you to merge into the elements. Angry clouds. Benevolent clouds. Non-existent clouds. Intense blue skies which you want to bathe in, cloak yourself in, even lick! You can count a thousand shades of green and track the first signs of Spring. A setting sun can make you feel inspired, nostalgic and creative. Yes, the countryside never fails to restore faith in oneself and the world we live in.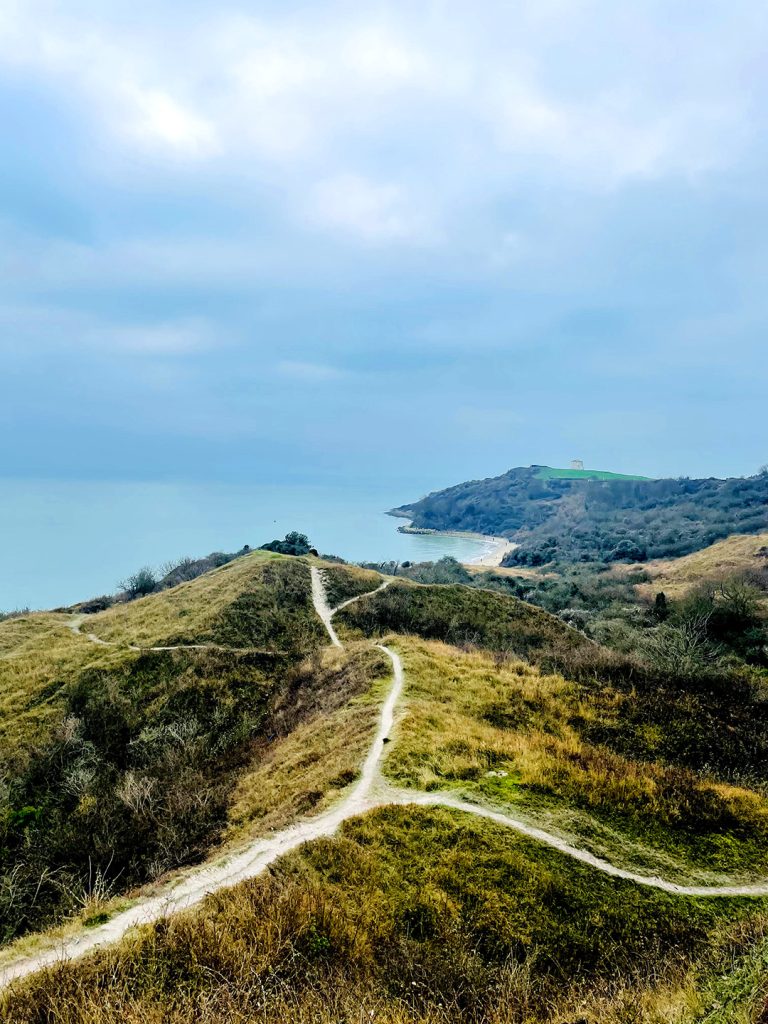 Half-way through #runeverydayjanuary and I developed a twinge in my knee. Instead of feeling relieved that I could opt out due to injury, that I didn't have to persevere with this unnecessary challenge, I was genuinely disappointed. That's when I realised how I really felt about it. It was important to me. I kept going. I never cheated or cut corners. I would have felt like a fraud if I had. I crossed that finishing line on the 31st of January feeling like a hero.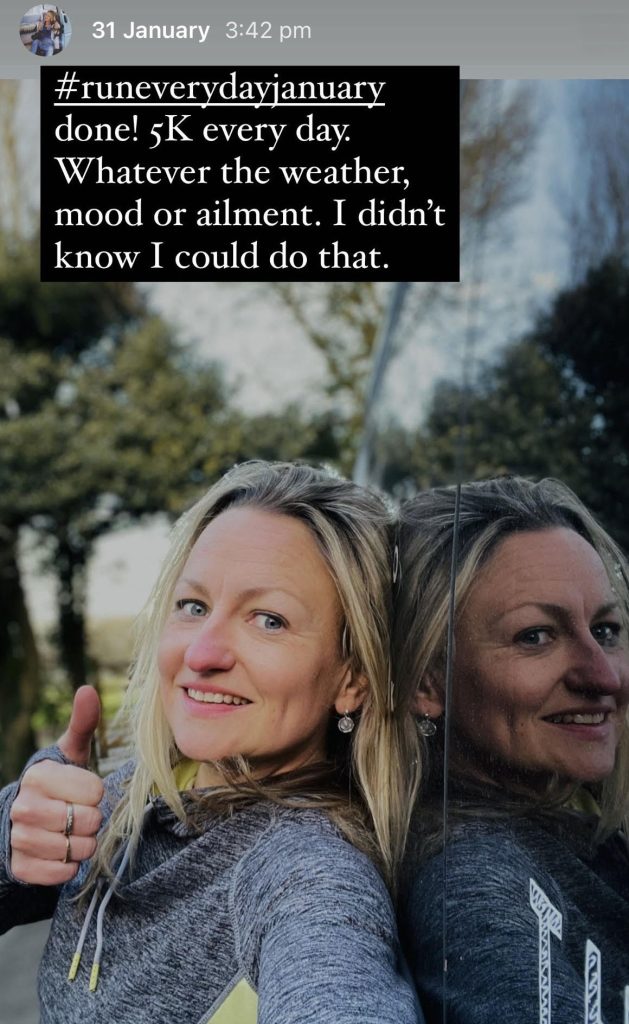 What did I learn from doing #runeverydayjanuary?
Don't compare yourself to others. Easy to say but so hard to do amongst this barrage of social media. The fact is, it doesn't matter what anyone else is doing. There will always be someone faster than you and someone slower with you. Compete with yourself, beat your own time if you like, but above all – enjoy it.
Don't beat yourself up for plodding around the route. Some runs will be good, some will be not so good but, at the end of the day, you are beating everyone sitting on their sofa watching Netflix. Those tough runs are the ones you should be most proud of. You could have taken a short cut or even quit after the first lap but you didn't. That shows real strength and determination, qualities essential for successfully negotiating our everyday lives. That makes you truly awesome.
Explore! Now and again deviate from your usual route and have an adventure somewhere new. One of my most memorable runs was through a coastal nature reserve in Folkestone, somewhere I'd never been. The views of the English Channel took my breath away. The discovery of a secret sandy beach thrilled me. I ended up at the harbour dodging people eating fish and chips. One of the miles took me a crazy 17 minutes because I was so enthralled by my surroundings. A real joyful run.
Enjoy documenting your challenge, if not to inspire others on social media then for your own personal amusement! I enjoyed thinking up inventive ways to take selfies now and again. The dafter the better. There's a lesson in there about not taking yourself too seriously, isn't there?
When you think you can't carry on, you absolutely can! Just keep putting one foot in front of the other. After all, it was Nepalese mountaineer, Nimsdai Purja who said, "…sometimes you feel like you are fu**ed, but when you say you are actually fu**ed, you are only like about 45% fu**ed." Such words of wisdom. Shame I can't pass them onto my young children right now.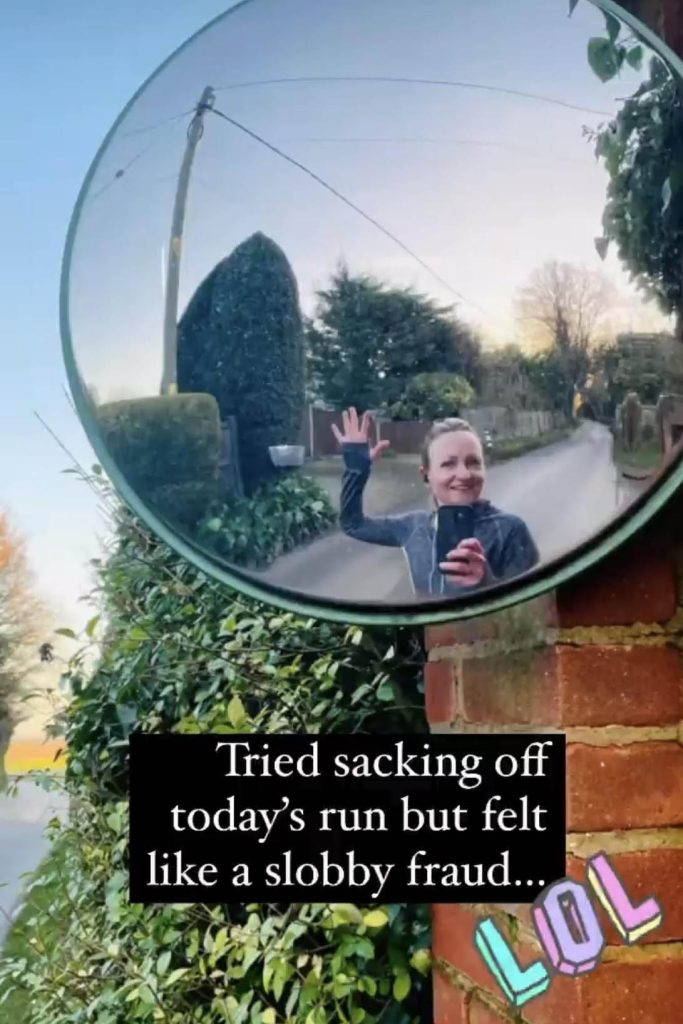 Finally – my Top Five songs on my running playlist.
1. Physical – Dua Lipa
2. Walk – Foo Fighters
3. Run – Delta Rae
4. The Edge Of Glory – Lady Gaga
5. Runnin' – Naughty Boy, Beyonce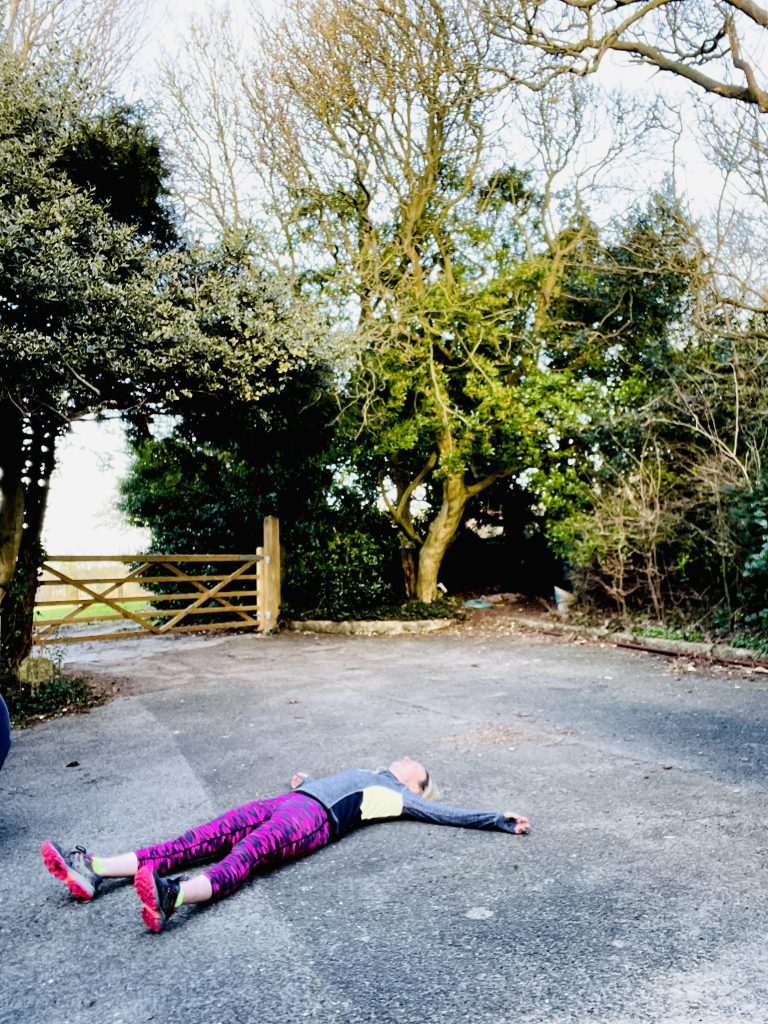 The End!