At the end of the month, I will leave the house which I brought all three of my newborn babies home to. The first time, in December 2010, I remember stepping shakily over the threshold, holding my bundle of baby girl, my eyes stinging with tears in utter disbelief at the ghastly ordeal which I just went through. The second time, October 2012, relief that it hadn't been quite so brutal and the third, July 2017, my neighbour, on babysitting duty, remarked that I looked as though I'd been at the spa. Astonishing, just how those experiences varied, thankfully less grisly each time.
Anyway, I digress. We are moving house, but not to go down the road. We're relocating a hundred and twenty miles away, unrooting our three children, two of whom are established at the village primary school and restarting my photography business in a different county. The plan took motion last August, after the first lockdown eased, and we adjusted our priorities. We missed family and whilst my husband's clan are dotted around the country, mine have gravitated to a pocket in Kent. If we were going to uproot, it made sense to head to the seaside and reap the benefits of grandparents, uncles, aunties and cousins.
Surprisingly, it was my husband who instigated the motion. As is the case with a lot of people, the pandemic has led to his work being far less office-based and he's now freer, more flexible, to make a change like this. Whilst my head has always been an advocate for the move, my heart has found it harder. It is different for men and women. I am the one who has built a life within this community, who will leave behind special friends and a beloved photography business and its treasured database of repeat customers. The estate agent stamped a sign into the turf outside our house and listed the property on Rightmove. I cried into my dinner and told my husband to take it down.
I couldn't do it.
But, of course, I can. I am! That's the thing with moving house. It's such a long process, there is plenty of time to come to terms with your decision, and I know I have.
We have loved this semi-detached house with all our heart, purchasing it over a few months before our first baby was born. We'd entered through the front door and felt the charm. Built in the sixties, it wasn't a particularly exceptional structure. Historically, it had served as the local police station until a developer had decided to turn it into a home. You could look up at the artex ceilings and see evidence of where the original walls once stood. It wasn't a property that had been finished with care, attention or even much of a budget, but we didn't mind. The moment we stepped into the modest back garden and set eyes on the daisy strewn field which lay beyond our boundary, we knew we had to make the house ours. That spacious meadow, which ensured that the house wasn't overlooked, made us feel boundless, as though anything was possible.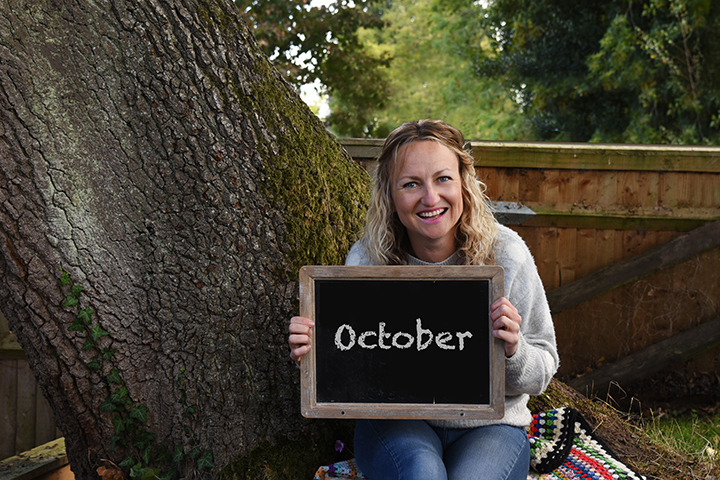 above: one of my monthly self-portraits under the oak tree in our garden
My husband was instantly enamoured with the little primary school down the road because that's how his mind works. He has always planned for the future, whereas I, at the time, couldn't relate to the idea that I'd have a child of academic age who I'd walk to the quaint building with the pointed roof and blue door every morning.
But we did.
In the end, we had three.
When we acquired this house, it was a modest three-bedroom dwelling but we outgrew it fast and, in 2014, managed to extend it to a four-bedroom house, nearly doubling the floor space. We laid hard wooden floors which, my middle child slipped on and broke his leg. Installed wide bifold doors in the living room to maximise the natural light. Created a Juliet balcony in the master bedroom to overlook the ever-changing pasture. On the weekend, when we're not all clambering to get out the door, I can sit on the bed with a cup of tea and gaze at the view. It's a bit like a mesmerising screensaver you can't take your eyes off.
I will really miss this view. The heart-stopping expanse of wavy grass, extending past the row of poplar trees which, in Spring and Summer, rustle so audibly, like whispering souls. It is almost like listening to the waves of the ocean. The horizon of woodland which, in April, blooms into a bluebell fairyland. The monstrous electricity pylon in the distance which I've always found disturbingly extra-terrestrial. The blue tits, with their sky caps, white cheeks and yellow bellies, which live in the wooden box nailed to the gnarled oak tree. The Roe deer, with their oversized ears, black noses and white chins, sometimes munching the brambles alongside our fence or camouflaging themselves within the trees.
(above: one of the Roe deer in the field beyond our garden)
The horses have also been a huge part of this wonderland. Last March, when the pandemic hit, there was something intuitive about the way they loped over, as though they'd heard the children's voices fluttering over the fence and were curious about the new way we were living our lives. During that unprecedented lockdown, their presence was calming and comforting. They'd gallop past our garden, as though they had wings, their hooves like a rumble of thunder in a cloudless blue sky.
(above: nosey horses in the field beyond our garden)
More importantly, I will miss the people that living in this house enabled me to find. Kindred spirits, who presented themselves to me like fireflies. Luminescent people who, even though they're no longer on my doorstep, I will never let go. If there is anything good to come out of saying a temporary goodbye to these friends, it is a nudge to say how we feel about each other. I'm an avid collector of meaningful words, and I certainly feel as though I've harvested plenty in the last few weeks, as well as scattered my own too.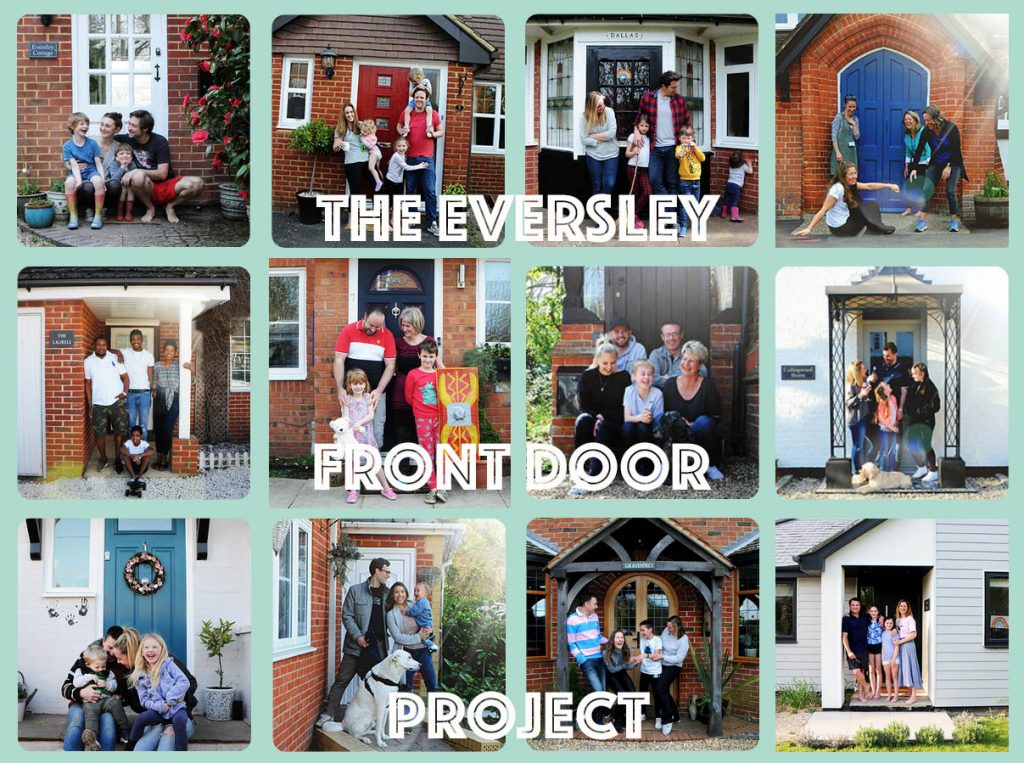 above: A handful of people in the community who featured in my Front Door Project
Over the last ten years, I have spent a great deal of time within these four walls. They were centric to the Baby Years, a cosy era where your world becomes so very small. I have run my business from this house, bringing shell-shocked mums and their newborns into my purpose-built photography studio. It is also the place where I chose to embrace, rather than endure, lockdown – rolling out the Eversley Front Door Project for Refuge. I have felt secure and content within these walls, although I have had moments where I've felt as though I couldn't bear to spend another minute within them!
I wonder if I will drive away from this house, so staggered by the extent of packing it up, that I will forget to be sad, or whether I will leave with a lump in my throat and tears in my eyes. Who knows? All I know is that I have a treasure trove of incredible memories banked, and I am keen for the next adventure. There is a dependable house waiting for us which, I know, my children will bring their children home to. It is covered in blue wallpaper and needs a dramatic overhaul, but we have the rest of our lives to do it.
"It can feel both unpleasant and somewhat risky to change your own world. But perhaps it's even more risky to do nothing. Even more risky not to try to discover how good life can be, both for yourself and for those you care about. What you will regret in times to come are the chances you didn't take, the initiative you didn't show, what you didn't do."
Who said this? I don't know. In Autumn, I came across these words, copied them into my phone and filed them away without a name to attribute them to. I've scoured the internet, but I can't place them. There are, of course, plenty of similar sentiments to be found out there. It's not a unique perspective, but I still apologise to whoever I've made anonymous. These words, amongst others, have spurred me on when I wavered, moped and doubted.
Now, I am just excited.
Ready.
Rest assured, I will spread my love for photographing people in the outdoors throughout Kent. Thank you to everyone who has supported me here in Hampshire. I have valued each and every photoshoot I have accomplished here in the last decade. You have all been ever so important to me. If you happen to meet the lovely family who are taking our place here, please look after them, as you have done for us over the last wonderful ten years!
Goodbye!