It's not always easy to get our children outdoors now that winter has arrived (nearly!). We're limited by the daylight hours and the horrible damp and cold

but we have to TRY.

I read something pretty alarming this week. Did you know that British children are among the most housebound in the world – with three quarters spending less time outside than prisoners – less than half an hour a day!
Whaaaaaaat? Why?

I also read that more than one in five British parents interviewed said that on a typical day their children didn't go outdoors at all.

Sure, I've been there, it sometimes happens and that's OK. Some days are prime cosying-up-on-the-sofa-and-putting-the-telly-on kinda days BUT when we can get out, we should. We know that time spent outdoors enhances brain development, improves concentration, and benefits our mental and physical health & wellbeing. I'm fortunare, I'm able to walk the kids to school – I'm aware that not everybody can – and I try to do this in all types of weather. We all need a runaround, an intake of fresh air and some daylight on our skin.
Since revolutionising my photography business and giving it an outdoor ethos, I've become more mindful of getting outside. I suppose I'm more convinced of the good it can do, and so I make more of an effort to incorporate the outdoors into everyday life. In October I incorporated an outdoor element into my son's 7th birthday party. I took half a dozen children – with accompanying adults – into the woods for a pirate-themed treasure hunt. Yes, I worried a little about what the weather would bring on the day but surely, with appropriate clothing (waterproofs and wellies) and trees for shelter, it would be fine, right? Anyway, there was a little bit of drizzle on the day and a whole lot of mud, but it was BRILLIANT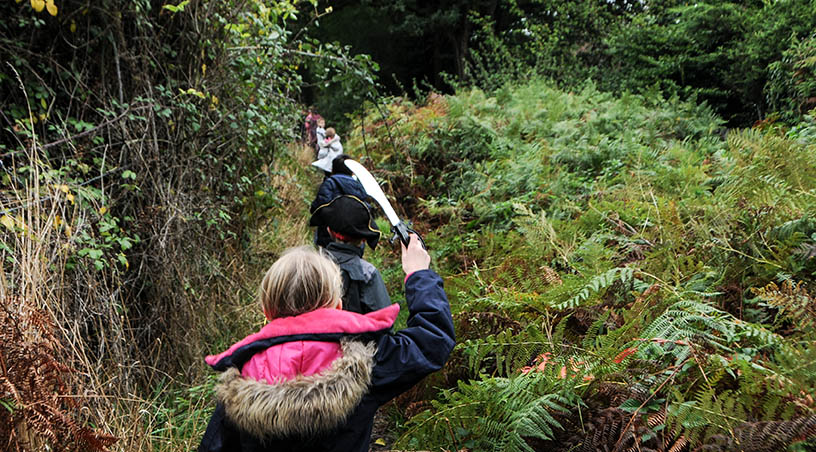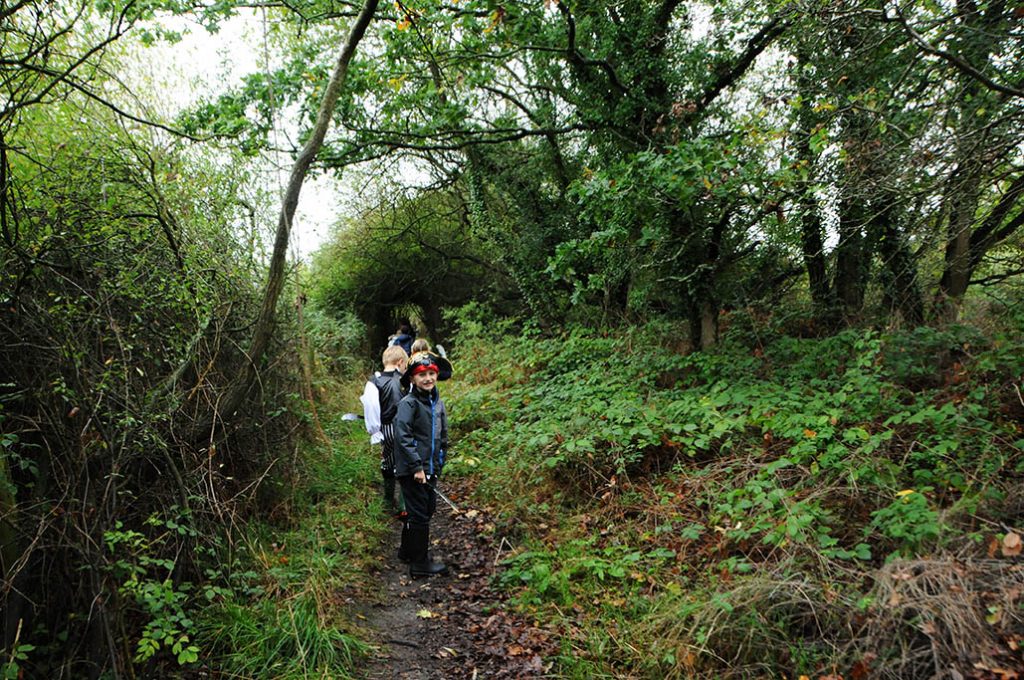 Yep OK, brownie points for me, but that's not why I'm telling you that. I'm admitting I'm the same as everyone else – but I am adjusting my mindset and trying harder.
Discovering the Scandinavian way of life
So why aren't our children getting out as much as they should? When quizzed about their children's lack of outdoor time, parents cited the weather as the main reason. I do sympathise with this, but our winters are not that bad, there's far worse – like in Scandinavia. As I was doing some research for this article, I stumbled upon lots of articles about the Scandinavian way of life, namely the value they put on children's outdoor experiences. I found out that the average pre-schooler in Stockholm, Sweden, spends six hours outside each day in good weather and an impressive 90 minutes in winter. Children, generally speaking, have a healthier balance between screen time and green time. How come the Scandinavians, with less daylight hours and colder winters than us, don't have the same problem we do?
One of the mummies from the school playground has recently relocated to Norway with her three young children. I contacted her to find out her stance on the philosophy of life out there. I heard all about her daughter's "Barnehage", which translates as 'child garden' in Norwegian, and is an equivalent of what we'd call pre-school. I saw a photo of the children dressed for playtime, snug in Merino wool thermals, fleece mid-layers and then winter overalls and also good strong boots. I also watched a video of a four-year-old carving wood with a knife. A KNIFE! Can you believe that? And then there was the description of the babies being parked up outdoors in their buggies to have their naps because it's healthier than bringing them indoors. I also found out that every school in Norway takes their children on a "tur", that's a hike into the forest, at least once a week.
"Being here has been an eye opener," Alix told me, from Norway. "The Norwegians approach the outdoors as just another room of the house. My number one observation so far is that we, in the UK, don't dress our kids in a way that allows them to be free to spend large amounts of time outside. The Norwegian really know how to do that. Also, we don't let them take risks with heights and have independence with tools…"
The Swedish term, friluftsliv, means living close to nature and it refers to the simplest, or more elaborate, of outdoor activities from berry picking to hiking, puddle jumping to fishing. It seems like this philosophy is ingrained, inherent, in the Scandinavian population.It's something I think we may have lost a little in this country?
Finding outdoor opportunities in your local area
Hey, we're not all bad. Opportunities are being created all the time for us to get our kids outdoors. When I think about my local area, Horseshoe Lake in Sandhurst immediately springs to mind. It offers heaps of exciting activities for children: canoeing, dinghy sailing, kayaking, stand up paddle boarding, dragon boating, swimming and raft building. You can even have your birthday party here. Furthermore, there's Little Forest Adventures, just around the corner from me in Eversley. It provides really chilled-out sessions for little ones to explore the natural environment through a range of activities – water play, den building, bug hunting, arts and crafts, campfire cooking – at their own pace and in line with their own interests. I've taken my two-year old here a couple of times now and it really was a breath of fresh air – literally!
Elizabeth Reid runs sessions all year round and says: "I've done three sessions in the rain this week and I haven't heard a single child complain! They've all embraced the fun side, from seeing how much they can collect, to using it for potions and mud pies! If this isn't nurturing resilience and an appreciation for the elements, then I don't know what is!"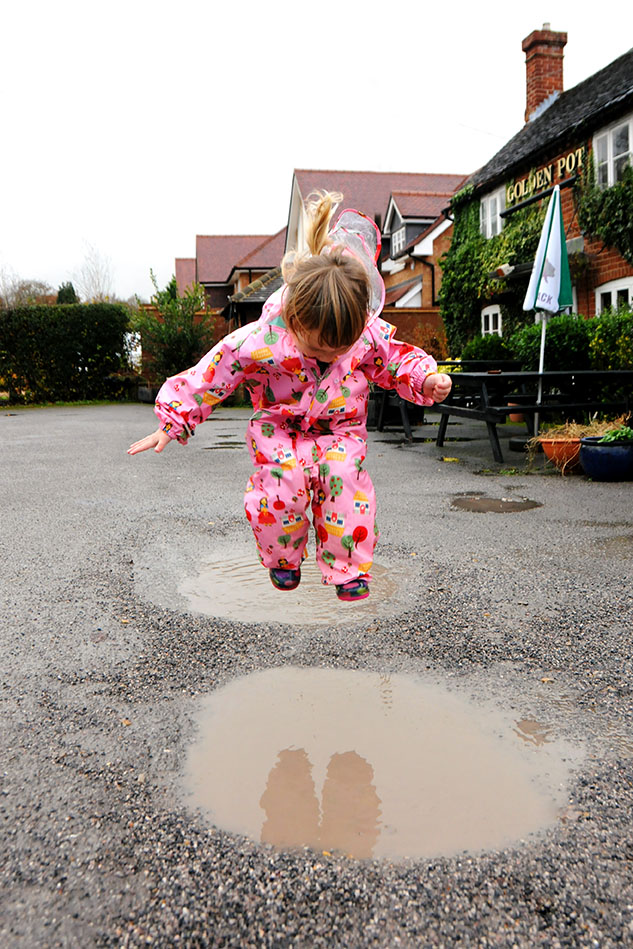 So, how can we encourage our children to put down their screens and get outdoors? First of all, I suppose we have to learn to enjoy it ourselves. If we can project joy about collecting snails or building a den, then we're half way there. Sometimes kids amuse themselves outdoors, but sometimes they don't. If I opened the back door and told my son to go and play in the garden, he'd complain. Children often need direction, they need ideas planting in their minds. Give them something to do, something to build.
It's also essential that we dress for success. I've realised that my children and I aren't that equipped for wet and cold weather, we could do with a trip to Mountain Warehouse to get kitted out in warmer, more waterproof clothing and shoes. Maybe then we could plan some inspiring family holidays in this country, rather than feeling we have to shell out for a plane ticket to sunnier climes because we can't risk the weather? There's so much beautiful countryside to explore in this country. We really shouldn't let the weather hold us back.
What do you think?